The new Aventador SuperVelocecar has just been revealed at the Geneva auto show and it has 740hp, weighs 1524kg, and can hit a top speed of 217mph. It looks just as good as it's performance is. Only problem is we can't drive it in a video game. That's why I decided to make a replica tune out of a standard Aventador adding all the parts and aero kits needed to make it as exact as possible. I list the exact parts I used to make it look as close as possible. I also hit ALL the exact numbers for hp, weight, and top speed to. It is as close as a replica as you can get. It is crazy fun to drive and gives you the same excitement as driving a (video game) real one. My favorite part is not only is it insane, but it sounds epic! You can hear it from miles away and has a very deep sound to the exhaust. My favorite car right now to drive if you have a wheel. Usually the MR cars are very difficult to drive, but due to the 4WD system and suspension tune it's actually quite easy. It is a Aventador SuperVeloce however so it can get crazy if you aren't paying attention.
Check the video out below to see how awesome it looks driving around a track and just listen to the epic noise which was an unexpected, but very happy surprise.
I also liked this tune and car so much I made a cinematic tribute video as well.
Also I love the looks of the Aventador with it's geometric pattern so much I made shirts you can purchase. They come in whatever color you want as well as just the lines version over at the Team Shmo Shop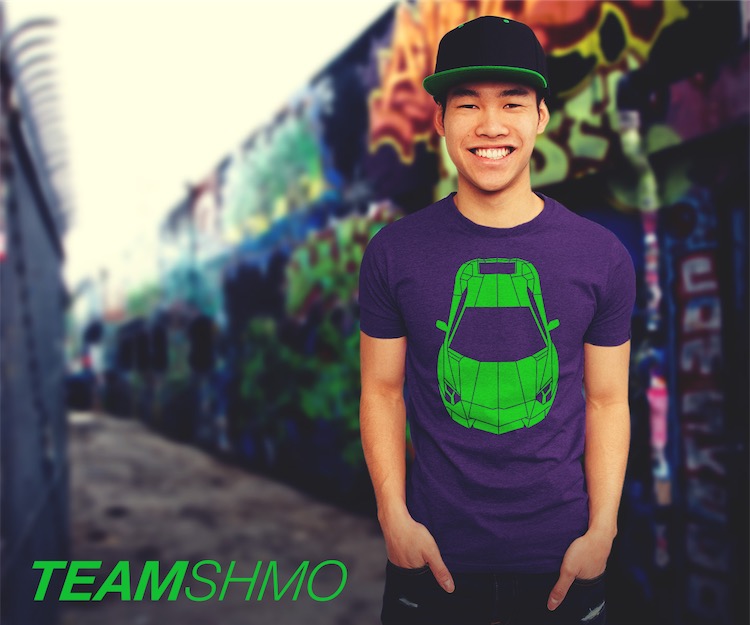 | | |
| --- | --- |
| Car |  Lamborghini Aventador LP 750-4 SuperVeloce |
| Drivetrain | 4WD |
| Horsepower | 740 HP/8600 rpm |
| Torque | 540ft-lb/5600 rpm |
| Weight | 1524kg |
| Miles |  37.5 |
| Performance Points | 597 |
PARTS
Here are the EXACT parts you need. First like all cars is an oil change. Sports exhaust, weight reduction 1, all drive terrain, custom transmission, custom suspension, racing brakes, and sports soft tires. For the looks you need Aero kit type A. Custom Wing wing mount C, wing G, winglets J. The height is -8 and width is +20. Other (mirrors) B. Wheels are OZ racing Italia 150. They are 19 from the bottom on the left. Color is up to you, but something bright and crazy works best.
BODY/CHASSIS
| | |
| --- | --- |
| NOS | 0% |
| Downforce | 0/115 |
| Weight Balance | 123/-50 |
| Power Limiter | 100% |
TRANSMISSION
Set it top speed, gears, final
| | |
| --- | --- |
| 1st |  4.086 |
| 2nd |  2.687 |
| 3rd |  2.013 |
| 4th |  1.567 |
| 5th |  1.277 |
| 6th |  1.065 |
| 7th |  0.911 |
| Final |  3.625 |
| Top Speed | 211 mph (340 kmph) |
LIMITED SLIP DIFFERENTIAL
| | | |
| --- | --- | --- |
| | FRONT | REAR |
| Initial | 25 | 32 |
| Accel | 17 | 20 |
| Braking | 10 | 13 |
TORQUE SPLIT
| | | |
| --- | --- | --- |
| | FRONT | REAR |
| Front Rear | 25 | 75 |
SUSPENSION
| | | |
| --- | --- | --- |
| | FRONT | REAR |
| Ride Height |  83 | 86 |
| Spring Rate |  5.45 | 8.10 |
| Compression |  4 | 6 |
| Extension |  3 | 5 |
| Anti-Roll |  2 | 4 |
| Camber |  0.8 | 1.2 |
| Toe |  0 | 0.20 |
BRAKES
| | | |
| --- | --- | --- |
| | FRONT | REAR |
| Brake Balance | 3 | 4 |