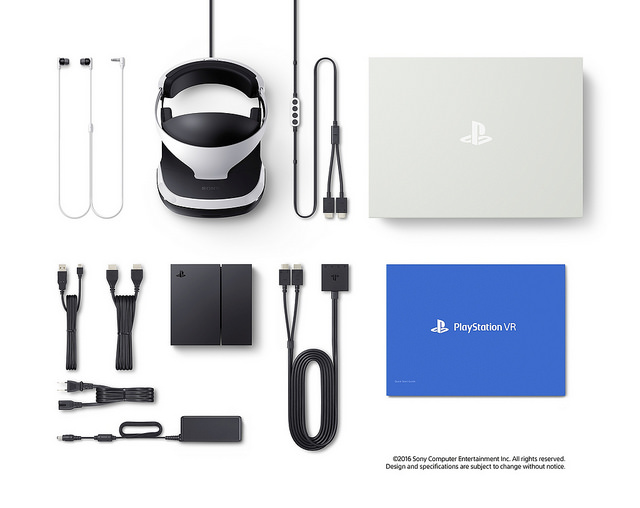 After months and months of talking about it, PlayStation VR has finally received a release date and a price. They are planning on launching it in October 2016 for $399. It will have more than 230 developers building games to work with it, and will have at least 50 compatible games at launch. Hopefully one of them will be Gran Turismo Sport. Also, you will get six free (probably demo) games at launch included with purchase from Playroom VR.
Inside the box you'll get the PS VR headset, a processor unit, a VR headset connection cable, HDMI and USB cables, headphones, and a power supply. Decent amount of stuff included, but although they say the price is $399 US, there is a catch. The cost of the PS VR is only a small part of the total investment you'll have to pay to get into VR. You also need the PlayStation Camera and the optional PlayStation Move Motion Controller (for some games). These, of course, are sold separate. Sony said the reason these are sold separate is because many people already own them.
PlayStation VR requires the PlayStation Camera, which is available separately. #psvr https://t.co/pzr4wgkU7Y pic.twitter.com/RM55rBZ2IT

— PlayStation UK (@PlayStationUK) March 15, 2016
For someone like myself who currently doesn't own a PS4 or PS VR, the cost will be quite expensive. The PS4 is $350, the PlayStation VR is $400, the game (GT Sport) is $60, the Move Controller is $30, and the PS Camera is $45. This brings the grand total to $885 US+tax. For me specifically – I am in Canada and our dollar is worth less – that means it will cost me $1162.02 or basically $1400 with tax. Of course, in my example I am buying a real racing game, GT Sport, meaning I'll have to buy a very expensive racing wheel too, to get the full experience. Basically, the cost will be around $2000 for everything, which is insane.
There is some good news. PlayStation's worldwide head of studios Shuhei Yoshida has confirmed that they are working on a PlayStation 4 and PlayStation VR bundle that will include basically everything you need to get started just for people like me. No word on price, or if it will be coming to other regions of the world, but I would assume it will be cheaper than buying everything separately.
There will be a bundle in the SCEA region [North America] with Move and a Camera
Now, I know it is crazy expensive, but you also have to look at it from all angles. Spending $2000 is a lot cheaper than buying an actual racing car and taking it to the track, or buying a super expensive racing rig setup with three TVs for your screen, which still won't be as immersive as a VR headset experience. If you want the true feeling of racing without leaving your house, a VR headset is basically your best bet.
I own a Samsung Gear VR, which uses a Samsung phone for it's screen, power, etc, and can confirm that VR is amazing. Although the Gear VR and PlayStation VR differ in many ways, they are also quite similar. The Gear VR uses a Samsung phone with a resolution of 2560×1440. The PS VR is only 1080p, but each eye can see 960×1080. The Gear VR display is good, but not great. It would definitely benefit from a 4k, or higher display. I don't think a 1080p display will be enough for a really amazing experience, personally.
The screen may not be too sharp, but the games are really what matter most. Some games can be so exciting that the lower quality display isn't even noticed. Sony has confirmed that games will cost between $10-60. I would assume that the $10 games will be mostly demos and ultra basic, while the $60 games will be full-on PS4 games that just happen to support PS VR.
The PlayStation VR is also brand new to the PS4 and most people haven't even tried any sort of VR yet. This makes me think that the quality of the games will probably be lacking for a while. Sony exec Shuhei Yoshida somewhat confirms this saying:
It's just the relative progression of any new media. When the content side starts investing, you usually start small. And with VR, small games can have a very significant impact, and that's more preferable. I've been saying that [to developers]: 'Don't start to write big design documents. If you do that while you're working on something long-term, the whole industry will learn a lot, and you'll discover half of what you set out to do will become obsolete. So focus on finding great experiences, and packaging it to deliver, and keep doing that.'
As I mentioned already, VR is super cool. It's really hard to explain just how cool it is, and I can only imagine how insane games like Gran Turismo 7 will become while using it. Being able to look around with your actual head and see the view change is going to be crazy. Also, Gran Turismo's very detailed interiors will finally be worth it as you'll be able to see everything, but is the price worth it? This is something I am not too sure of yet. What are your thoughts? Will you be running out to get a PlayStation VR on day one, waiting until a price drop, or just skipping it completely?
Source: PlayStation, Techinsider, Tweaktown