So you just bought one of the best new racing wheels for your PS3/PS4, Xbox 360/Xbox One, PC, etc and have come to the realization that you need a racing wheel stand in order to use it. There are many choices out there, but which is best? Also, more importantly, which ones will work for your Logitech G27/G25, Thrustmaster F458/F430, Thrustmaster 300/500 or any other wheel in-between? Luckily, for you, we have compared them all so you can make the best choice for your situation.
All the stands listed below can be used with a normal chair in your house, or a special racing seats. You can buy full racing chairs with racing wheel mounts built in, but they take up a lot of space and cost double compared to anything listed here. This list is geared towards "cheap" racing wheel stands. Most mounts listed are easy to fold and pack away when you are not using them. The best part about these types of wheel stands is they can be for serious racers or casual gamers, and they don't take up a lot of room.
Certain things we looked for is how easy can they be moved into storage, how strong are they, and the cost for what you get. If you see one you like, make sure to check out it's Amazon page to double check everything fits your needs. Especially if you own a wheel with larger pedals as they may not fit. Make sure to measure your wheel and pedal dimension before purchasing a stand. Just because I have not listed your racing wheel as compatible with a certain stand does not necessarily mean it won't work. Of course, if your wheel is listed as working with a certain stand don't worry about dimensions.
Just a final note to remember, none of these stands come with wheels. They are strictly stands to put gaming wheels on. Check out the best racing wheels to purchase a wheel if you don't have one already.
Original Wheel Stand Pro Stand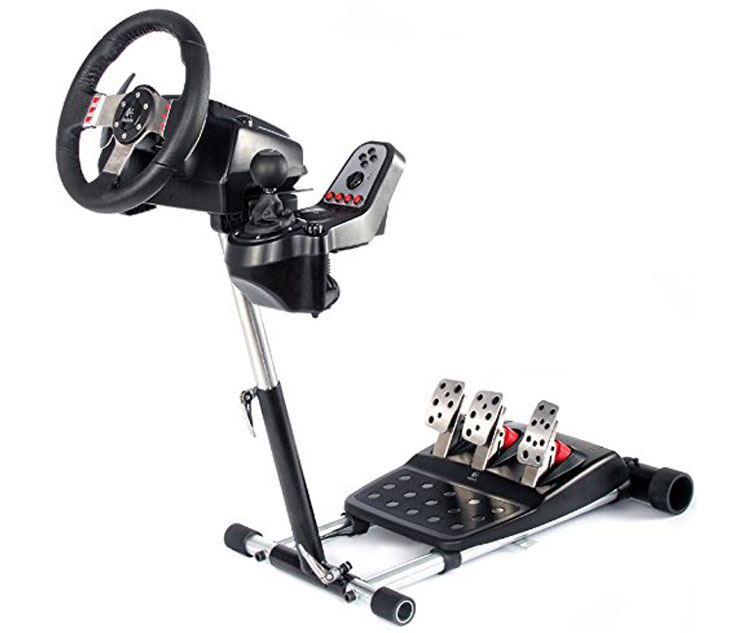 First on the list is a classic wheel stand that is marketed towards probably the most popular wheel of all time, the Logitech G27. Although it is aimed at the G27, that doesn't mean it won't work with other wheels too. The stand is made completely out of metal which gives it a very solid feel and keeps things very sturdy. The stand weighs roughly 20lbs without the wheel mounted on it giving it the heft needed to not move around. The stability of the stand is very important as you do not want it shaking all over the place when you are trying to steer. Not to mention, it has to stand up to some pretty grueling force feedback offered by many top gaming wheels.
You can mount the pedals to the frame to make sure they aren't sliding around, or technically let them rest on top of the rails if your pedals do not mount. Being able to attach the pedals to the frame is huge to me. I have raced for many years with cheap stands where the pedals are just resting on the floor and always have them slide around. It is super annoying having to try and kick them back into place while you are in the middle of a race.
If you notice in the picture, there is a pole right in the middle. You may think it will get in the way, but it won't. Your legs go on the sides of it making you not even realize it is there. The good thing about the pole is it's height adjustable. This is good for taller, or shorter people, or when watching TV. Sometimes you don't want to fold the entire wheel just to watch a movie. Being able to simply fold the wheel down to see the screen is a huge plus. However, if you do want to fold it away, it does that as well. You can take the wheel and pedals off and fold it under a couch.  Or, leave them attached and move it to another room for when company comes over. The versatility of this mount is the best thing about it.
The picture below is what all these pole mounted stands will look like folded up. As you can see, they fold up very nicely and get quite small.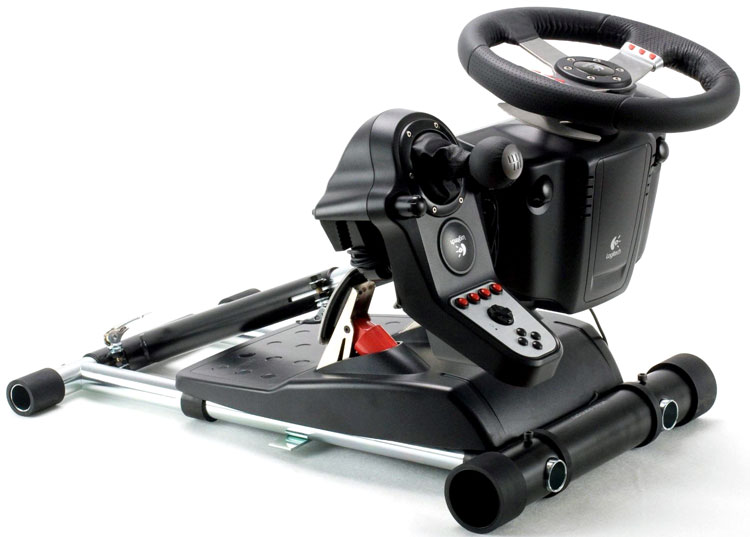 Also, yes, since this steering wheel stand is for the G27, of course it has a shifter mount included. Very critical as without one you wouldn't be able to shift.
Works with Logitech G25/G27, Thrustmaster T-GT and many other wheels as they just clip onto the platform. Double check the listing, but it will probably work with whatever wheel you own.
You can buy the Original Wheel Stand Pro Stand on Amazon
Racing Steering Wheelstand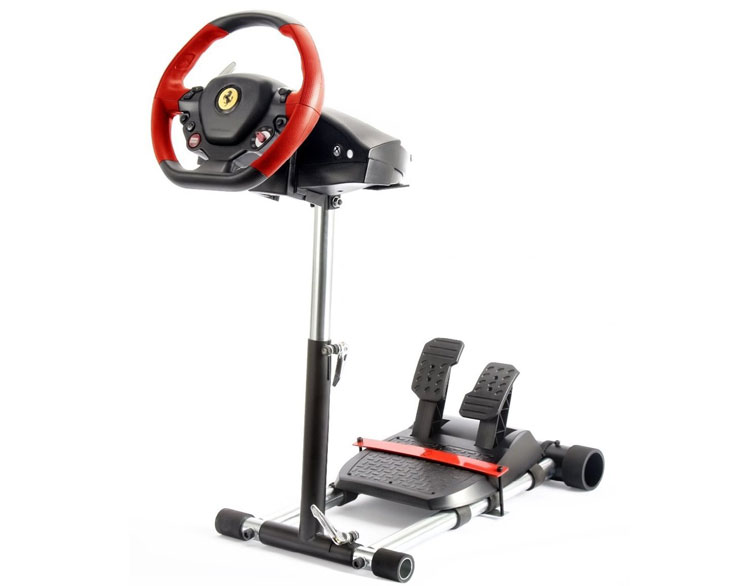 Very similar to the one listed above. It's really the same stand only for a few different types of wheels. It still has a full metal build, nice rubber feet so it doesn't slip, still folds, but doesn't come with a shifter spot. That is really the main difference. If your wheel has a shifter, look into the one listed above, but if your racing wheel does not have a shifter, get this one. This stand also comes with a bolting system for the pedals to keep them locked on to the frame. This is good for pedals that don't have bolt holes in the bottom and can not be mounted into the frame. A quote from the manufacture.
if you must think about the stand while you are playing the game…you've got the wrong stand.
Very true words. The entire point of a stand is to make you believe that there is no stand. That it's actually attached to a car, and just like an actual wheel in a car, won't be moving around.
I think this stand will work for many other wheels as well, but the company does have a separate listing for Logitech wheels or Thrustmaster. They all look identical, have all the same features, and may just be listed as different ones for search results, but I will list the other versions just in case. Just purchase the wheel stand for the wheel you have to be safe.
Works with the original Thrustmaster F458 (Xbox 360 Version), F458 Spider (Xbox One), T80, T100, RGT, Ferrari GT and F430 wheels 
You can buy the Original Wheel Stand Pro Stand for Thrustmaster  on Amazon
Works with Logitech Driving Force GT, Pro, EX or FX wheel.
You can buy the Original Wheel Stand Pro Stand (Logitech) on Amazon
Works with Thrustmaster T300RS (PS4) TX458 (Xbox One)
You can buy the Original Wheel Stand Pro Stand (Thrustmaster) on Amazon
The Ultimate Steering Wheel Racing Game Stand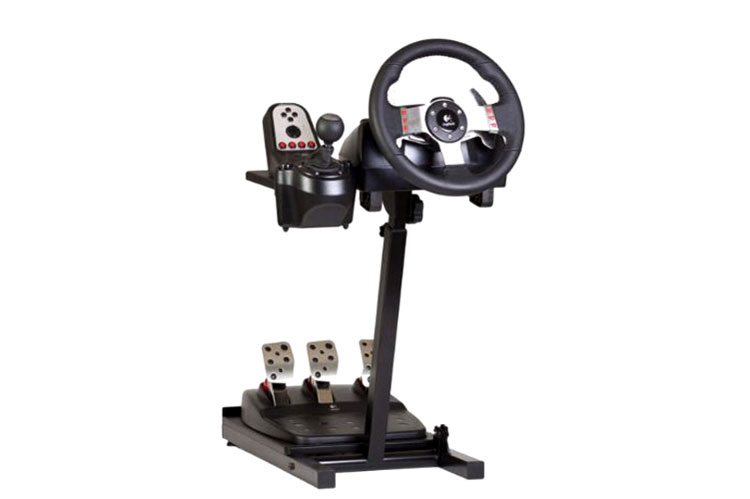 Similar, to a degree, as the more expensive counterparts above, but a lot cheaper. This is great for casual gamers, or if you just want to get into sim racing and bought a cheap wheel to test out. It will work with many popular wheels as well, but the overall construction may not be what you are looking for. It adjust to different heights, is foldable, and can support regular wheels or ones with shifters, which is very nice, but the way the adjustable height works is all with pressure. You have to really tighten the bolts a lot for it to stay in place. This should be fine at first, but may wear over time if you are always adjusting it.
The price is right, but again, this is mainly for small time racers or a stand to give your kids etc. One way you can tell that it's a cheaper stand right away is the company is clearly an idiot as they spelt Logitech, "Logicteck", and one second later say "Logictech" on their Amazon page description. You would think a company trying to sell a product would at least spell the main wheels it supports right. Especially such a popular brand like Logitech.
Works with Logitech Driving Force, Logitech G25/G27, Thrustmaster F458/F430, Xbox Wireless Racing Wheel (2011), Xbox Racing Wheel 2008, Fanatec
You can buy The Ultimate Steering Wheel Racing Game Stand on Amazon
XL21 Xlerator Wheel Stand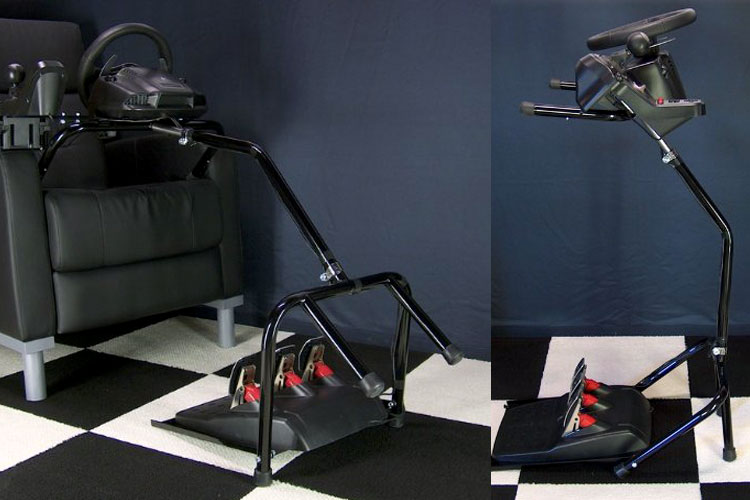 I like this one as it uses your char or couch for support. The way it works is two feet are on the floor and two would be beside your legs when seated. Of course, do some measuring of the seat your plan on using to make sure it's wide enough, but by the looks of it, many seats should work fine. It has a shifter mount as well meaning it will work for many wheels. You can adjust it to a degree, but since it goes over your legs, if you have huge legs or a big stomach etc you may run into a problem. They do offer two different sizes to get around this problem. The "Regular" model has a lap bar for up to 220lb person or the "Big Boy" edition for up to 300lb people.
Getting out of it would be a problem as well since it uses the seat you are sitting in to support it. Luckily, they have included a second pair of attached feet that allow you to stand it upright. When you want to get up just push the entire stand forward and walk away. It doesn't fold away as nice as some others, but the price is good for a stand that has a shifter attachment. It also doesn't have a pole going down the middle for those who like more space.
Works with Logitech G27/G25/GT, Fanatec or Thrustmaster T300RS/T500RS or TX wheel
You can buy the "Regular" XL21 Xlerator Wheel Stand on Amazon
You can buy the "Big Boy" XL21 Xlerator Wheel Stand on Amazon
Racing Steering Wheelstand for Fanatec
This wheel is very specific for Fanatec wheels only. However, if you have a Fanatec wheel, especially one of the Porsche wheels, you wouldn't want any other stand. As you can see in the picture, it's orange just like your wheel. Very cool to have an orange wheel with matching stand. Other than that, it's basically the same as the Original Wheel Stand Pro Stand (first review). Can be fully adjusted to fit you, folds easily for storage, has shifter mount, and pedals are bolted down. The shifter mount is also a lot lower than the wheel to make it feel even more like a real car. Many other wheel stands with a shifter attachment are mounted lower, but not as low as this one.
Works with Fanatec Porsche GT3/GT2RS, CSP/CSP V2, CSR/CSR Elite Wheels w/Club Sport or CSR/CSR Elite Pedals
You can buy the Racing Steering Wheelstand for Fanatec on Amazon
Which Gaming Wheel Stand to Buy?
Unlike the Best Racing Wheel review where I said the choice is made on your system, skill level, and budget. Which racing wheel stand to get is an easy choice. Whatever wheel you bought from that review just buy the matching stand. Most of the stands here are basically the same, but work for only certain wheels. If you have the Logitech G27, for example, you basically have to get the Original Wheel Stand Pro Stand as it's one of the few that have a shifter mount. If you own a Thrustmaster T300, you would have to get the same stand, but the Thrustmaster version. Now, of course, if you have a cheaper wheel, or don't want to spend that much on a stand, there are a couple of cheaper stands that hopefully will work well too.
Hopefully, I have given you a better understanding of what to look for when picking a racing wheel stand. You can also build your own, but trust me, they will never perform as well as a professionally made stand.