PlayStation 4 is the best and worst thing to ever happen to racing game fans. That is because virtually ALL old PS3 racing wheels will not work with it. It is extremely disappointing and there is literally nothing any of us can do about it. That means everyone must upgrade their racing wheel or be forced to use a controller. A few years ago I wrote a guide on the BEST Racing Wheels out at the time, but now I am going to get more specific. This guide is only for the BEST PS4 Steering Wheels. It includes some of the old list and some new ones that have recently come out. I have listed a wide arrange of wheels that are perfect for games like Project Cars, Need for Speed, DiRT Rally, PSVR Drive Club, The Crew, Assetto Corsa, or any other popular PS4 racing game you like to play.
As I mentioned in the last article, if you are a racing fan, you basically have to get a racing wheel. It takes sim racing to a whole new level. It is a totally different feeling having an actual wheel in your hands and pedals at your feet compared to laid back on a couch barely grasping a controller. You feel so much more alive and connected when you physically have to do the work. It is also a lot harder at first, but is so much more fun, and you will definitely become a much better driver after some practice.
Also, remember that you will definitely need a racing stand to go with your new racing wheel. You must have the wheel mounted to something, whether it be a table, desk, or dedicated racing wheel stand. If you do not have it mounted the wheel is basically useless. You won't be able to turn the wheel without the base firmly attached to something. However, I also have a guide on how to pick the BEST Racing Wheel Stand for your exact wheel setup. After you decide on a wheel I suggest you check out that guide too.
One final note, all wheels are PS4, PS3, and PC compatible unless stated otherwise. Even if you don't currently own a PS4, it makes more sense to buy one of the wheels listed below. You can use it with your current PS3 and future PS4. Not much point in buying a PS3 wheel and having to upgrade it later when you buy a PS4. Finally, make sure to click the link and check out the product page of the wheel you want. This will list even more details about the wheel. I have listed the main facts and differences, but specifics about weight, size, and other small details are on the product page.
Thrustmaster T300RS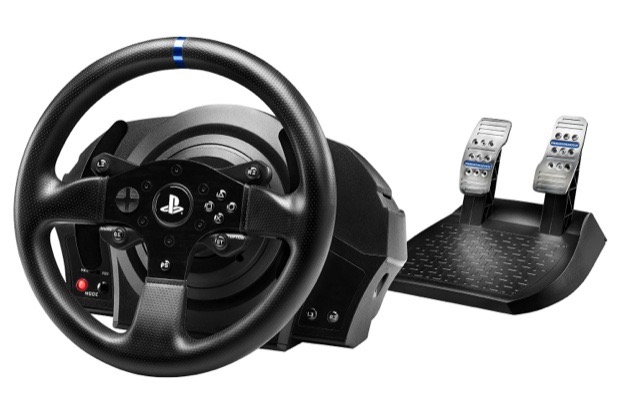 The first wheel up is the T300 RS by Thrustmaster. It is a great wheel for a fair price for what you get. What makes it a great PS4 steering wheel is the fact that it features excellent brushless motors, force feedback, and 1080 degree wheel rotation. Almost as a bonus, this wheel is also compatible with many other Thrustmaster racing wheels. For example, you can take off the actual wheel and replace it with the Ferrari GTE wheel, the Ferrari F1 wheel, or even the Thrustmaster T500 RS wheel. The stock pedals are adjustable, which is good for a regular driver, but are also replaceable with Thrustmaster T3PA or the Thrustmaster T500 RS pedals. You can even buy an additional shifter to give you a true manual car feel.
I really like this racing wheel as it is a perfect balance between function for value. The build quality is very strong, and the feel is quite nice. However, the best part about this wheel is its customization. It is already a good wheel stock, but can grow with you as you get even better.
There is also a much more expensive T500 RS wheel from Thrustmaster, but I have not listed it here due to the price. I live in Canada and the current price is around $1000 with tax. I just don't see the point in recommending a wheel at that cost that doesn't seem that different from the T300 RS. It uses a belt-driven system, and ships with better pedals, but that is really it for more than double the cost.
Thrustmaster  T150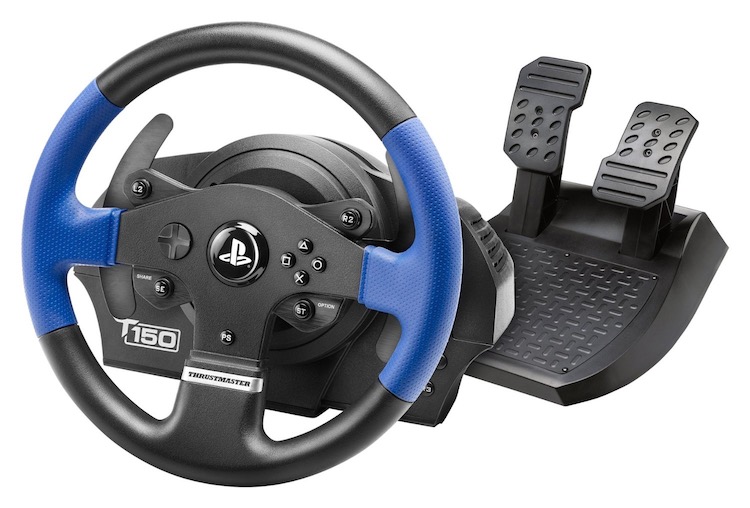 This is another wheel by Thrustmaster that is similar to the T300RS. Like the T300 RS above, it features 1080 degree steering, force feedback, and even has built-in official PS4 buttons for sharing, options, PS button and more. There is also a switch that can be moved to PS3 or PS4. Not sure why the game system can't detect the wheel and adjust for it, but at least this way you know for sure it is going to work great every time (some of the other wheels have this switch too).
One of the main differences between this one and the T300RS is the T150 uses a mixed belt-bearing pulley instead of a brushless system. Brushless is usually better, but belt-bearing is said to be a little quieter. It also has paddle shifters that are made from metal and are said to be able to be pressed over 500,000 times before wearing out. Finally, it is compatible with Thrustmaster's T3PA and T3PA-PRO pedal set, and Thrustmaster TH8A shifter. The price is also about half of the T300RS. Not a bad choice for casual games who want force feedback and good build quality.
Thrustmaster T-GT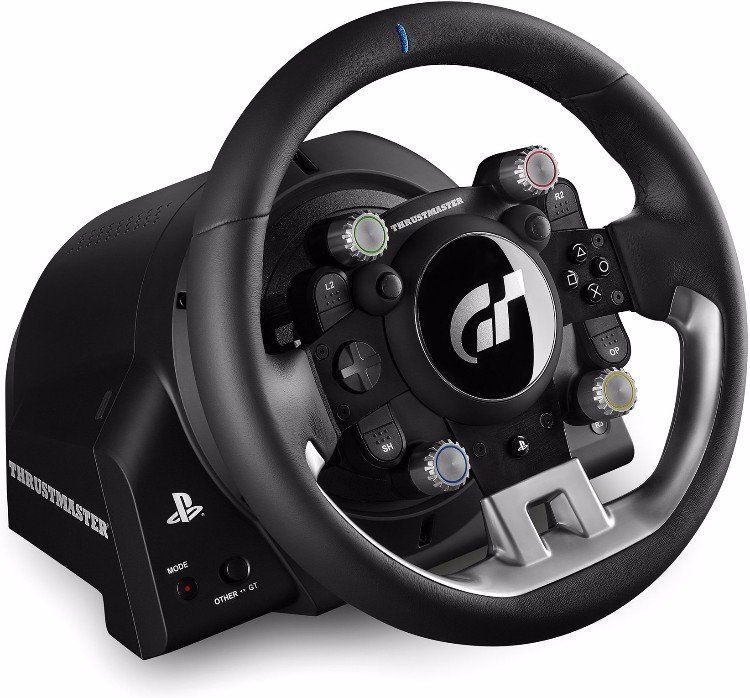 Thrustmaster has introduced the T-GT racing wheel, which was announced during the GT Sport announcement. The wheel is aimed at a more professional level drivers and has many features aimed towards advanced users.
Thrustmaster T-GT racing wheel makes it possible for the pro-drivers to experience all kinds of different car behaviors and predict all the track conditions in the game. The racing wheel is designed specifically for PS4, but can also be used with a PC.
If you are a fan of GT Sport, then T-GT can be a good option for you. The buttons on the racing wheel provide a great user friendly experience. Moreover, it is very simple to use and set up and comes with many usage modes. Gaming enthusiasts are in for a nice surprise as Thrustmaster T-GT possesses some amazing racing wheel technologies. These include 40-watt brushless force feedback for the torque, motor cooling implanted system possessing 50% more dynamics, vibration effects which can enhance the depth feedback, and greater range of stall force.
Moreover, the transducer makes it possible for you to feel the road surface as well as the grip of the car's tires. In addition, the pedals are of really good quality and are made of metal. They are also adjustable.
There are very few cons to consider when reviewing Thrustmaster T-GT racing wheel. Foremost is its exorbitant price. At $800, the racing wheel is really expensive and is thus out of reach for many racing gaming lovers. However, many people tend to ignore this high price when they enjoy the premium quality technology received while using the T-GT racing wheel. Also, while setting up the T-GT, you will definitely need to have a good racing wheel stand. This is a professional wheel that needs to be clamped down properly. Some users have also complained about the small size of the wheel.
In all, Thrustmaster T-GT racing wheel is a great gaming peripheral which stands unmatched when compared with other racing wheels.
Fanatec CSL Elite Racing Wheel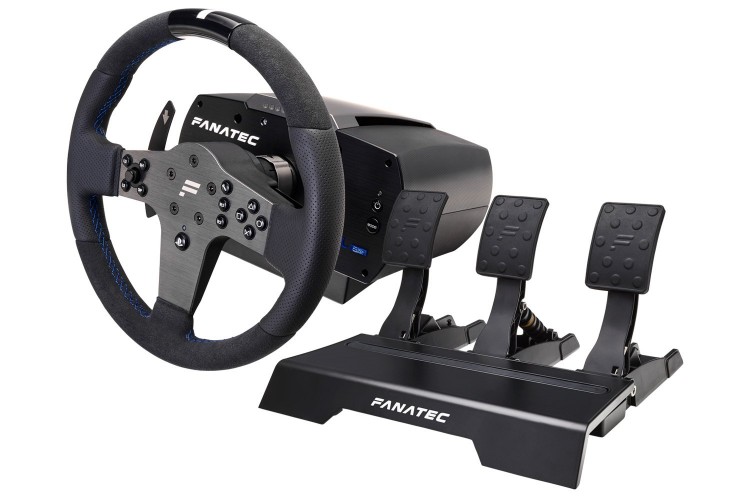 Fanatec has always made some of the best racing wheels around, and the Fanatec CSL Elite Racing Wheel does not disappoint. The wheel rim is wrapped with a split between perforated leather and alcantara, while the wheel face and paddles are made out of aluminum. I was very impressed with the quality of the Fanatec CSL Elite overall, but especially the paddles. They are extremely sturdy and have zero wobble when touching them. I have used many cheaper racing wheels in the past that have cheap plastic paddles that work, but don't feel good. These ones, however, are the exact opposite of that. You will want to race on smaller tracks just so you can shift over and over.
My favourite thing about this wheel is the realism it gives you when using it. There are shift lights on the base that match your RPM and tell you when to shift. It also has a little screen at the top of the wheel. There is a settings button on the wheel that when pressed allows you to make changes to your car. You can scroll through various settings such as force feedback strengths, steering angle, even a "drift sensitivity", and more during a race. These settings are also independent from your car in the game. Meaning, you can tune your car in game, but also tune the wheel to really dial it in. Fanatec allows you to save a few different setups as well. This is huge as it allows you to switch games, or cars and quickly change setups.
Also, there is a little racing stripe above the screen. In normal real-life cars this line is to make it easier to tell if the wheel is straight or not. However, on the Fanatec CSL Elite Racing Wheel, the racing stripe has colour changing ability. You can set it to change colour for telling you when to shift, or for various other alerts. It is really awesome.
Another really cool thing is the ability to change all the buttons. Normally, the buttons are stuck on and that is it, but this wheel allows you to change them. For example, let's say you have the horn button set to R1, you can remove the R1 button and replace it with an actual horn button. Little details like this is what puts the CSL Elite Racing Wheel ahead of its competition.
The wheel base is really the powerhouse of any wheel as it is responsible for all the work. It features a brushless servo motor combined with a single belt drive, large ball bearings for smoothness, 1080 degrees of rotation, allows connections to two shifters, a handbrake, and more. It feels very smooth and easy to turn as well as doesn't feel cheap. The force feedback is very strong, too.
If you haven't been able to tell by now, the Fanatec CSL Elite Racing Wheel is pretty awesome. However, the awesomeness comes with a cost. The price is definitely up there with the best of the best, but I feel it delivers it.
The only downside, for me, is when you do updates it requires a PC and does not support Mac (I have a Mac). One other things is support may not be there for all games out of the box. However, it has a "mode" button that you can click to switch into "compatibility mode" which basically emulates another wheel. I tried it with GT Sport and it worked great. All the lights, force feedback, buttons, and more worked perfectly. Just make sure to update to the latest wheel firmware. Other than those small issue, this wheel is fantastic. The high quality feel, strong force feedback, and insane amount of customization make this one amazing racing wheel. If you are looking to spend a little extra money for an amazing gaming experience definitely add the Fanatec CSL Elite Racing Wheel to your list.
Buy Fanatec CSL Elite Racing Wheel (better prices from their website)
Logitech G29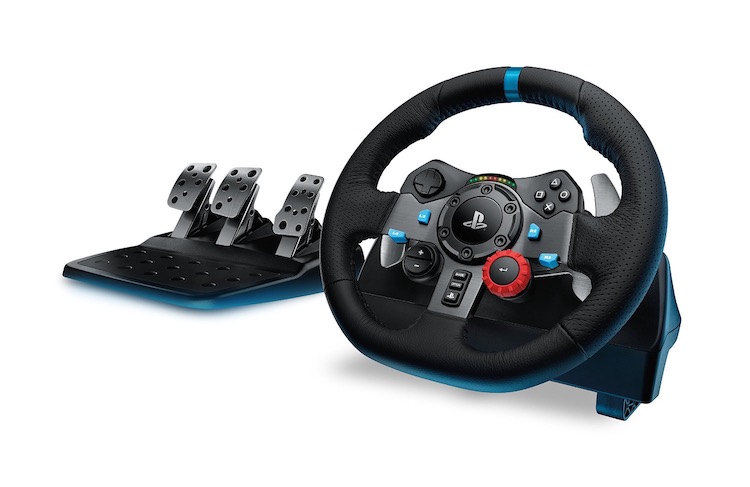 I'm a big Logitech fan and the G29 does not disappoint. It is definitely on the pricier side, but does offer a lot to back it up. Many people claim this is basically a combo of the legendary Logitech G27 and the Driving Force GT. Both amazing wheels, but sadly they do not work for PS4 anymore. It has lots of buttons and functions of the DFGT, but the higher build quality and precision of the G27. What's not to like? It is also the only PS4 steering wheel with clutch, but no included shifter, which is strange.
It features dual-motor force feedback, tons of on-wheel controls, a really cool RPM/shift indicator LED light on the top of the steering wheel, all steel and leather build, 900 degree turning radius, and three pedal configuration in case you want to purchase a separate 6-speed shifter. Definitely a bit of a downside that a shifter wasn't included in the box like it was with the G27, but at least you can still buy one separately if you want one.
The wheel is fully compatible with PS4 or PS3, but if you buy the add-on shifter it will only work with PS4. The pedals are also pretty cool as they are all different pressures from each other. Meaning the gas pedal feels different to press down compared to the brake, or the clutch. A very cool idea that adds to the realism. If you are a fan of the older G27, you are definitely going to love the newer G29.
Thrustmaster T80 RS
This wheel is for casual racers or people working on a budget. It is the cheapest of the bunch, but still has some good features to make video game racing more enjoyable over a basic controller. It is definitely missing a lot of features to keep the cost low like no clutch, no force feedback, only 240 degree turning radius, but it has a lot of pros too. You can adjust the pedals, has a nice grip, and the price is low. It is a fraction of some of the other wheels here. It is also an excellent choice for kids. You don't have to worry about them breaking it as much, or if they use it that often because the cost is so low. However, it just doesn't offer enough for more advanced drivers.
Best Racing Wheel for PS4?
These are all my personal choices for the best PS4 wheels out there at the moment. Hopefully you have gotten a better idea of what each wheel is capable of and the price differences between them. However, in terms of which wheel is actually the "best" depends on what you are looking for. Do you want a full out racing cockpit setup, a weekend enthusiasts setup, or just for basic fun? Each wheel is aimed at a different type of user and only "you" can decide which is best. Your personal needs and requirements are the most important when deciding.
Although, if you really can't decide, my opinion is get the Thrustmaster T300 RS, or the Logitech G29. Both offer a ton of features, high build quality, and are around the same price. They are also great for people who aren't use to a racing wheel, and want to get better. Also, both allow drivers to grow and get better at it. Cheaper wheels will only allow you to progress so far before needing to buy a new, more advanced wheel.
Narrowing it down to just one, however, is really hard. Both wheels are very similar, but I would recommend the Logitech G29 for casual to intermediate drivers, and the Thrustmaster T300RS for casual to advanced drivers. The reason for this is because the T300RS allows for more customization. You can take the actual wheel off and switch it for even better wheels as well as add new pedals, and shifters. The only aftermarket accessory for the G29 is an additional shifter. Those who really want to grow are just better suited for the T300RS. If you are real advanced and want to customize literally everything from the buttons, the shifter, handbrakes, and more than the Fanatec CSL Elite Racing Wheel is the clear choice. Of course, all of these accessories come with a lot of extra costs too. It is up to you to decide how serious you are about video game racing.
If you own one of the wheels above, or have purchased one based on the article, we would love to hear your thoughts in the comments!