Racing Wheel Worth It?
Level of fun

Realness

Improved performance

Overall experience
Summary
All about the experience. There is literally nothing better than a racing wheel when it comes to added excitement. A racing game truly comes to life when it is you behind the wheel, literally.
It doesn't matter if you are looking for XBOX One, XBOX 360, PC, PS3, PS4 steering wheel, etc. this guide should hopefully point you into the direction of which wheel is BEST for you to buy. I will tell you right now, if you enjoy racing games there is nothing more fun than racing a brand new beautiful super car with a wheel! It's a totally different racing experience with a wheel compared to a controller and hard to go back after you have used one.
The problem, however, is there are a ton of wheels to choose from. I knew there was a lot of racing wheels for video games before, but while doing research for this guide, it has really opened my eyes as to just how many there actually are. Luckily, for all of you, I narrowed it down to my personal picks for the best wheels out there today.
If you are a serious Motorsport fan, a wheel is a must. They offer WAY more control over a normal video game controller, and like I mentioned, way more fun. The prices, however, vary pretty greatly. Some of you can pick up a wheel for $30, while others go to $500+. They even have full on racing simulators where the price can be in the tens of thousands. All the top E-Sports racers have full on racing setups, and you can forget about trying to qualify for top spots at the Nissan GT Academy without a racing wheel. Whether you are trying to get into a competitive gaming league, or just beating your friends online, a racing wheel is the only way to go.
At the end of this article, I have included my personally experience with using a wheel if you happen to be interested. One tip after you get a wheel is practice with it! You are probably going to be worse at whatever your favorite racing game is at first, but after some practice, should be much better.
Also, be sure to check out the links for exact specs on whether or not the wheel you are looking at will work for your gaming system or video game. The reviews of other people using them help a lot when making your choice as to which to buy. For example, the PS4 has stopped support (see best PS4 racing wheels) for many mainstream gaming wheels. I listed what platform each wheel works for, but double check on the product page before you buy to make sure. At this moment, it's mainly Thrustmaster wheels only.
One important note, all these wheels need Wheel stands and mounts
 ,which can be purchased at your local store, or check out what is available on Amazon. I have wrote a guide on the best wheel stands as well for you to check out after you read this one. You can't just hold a wheel and play, so a mount is mandatory. A table works too, but may not be very convenient in your gaming room. Most mounts aren't that expensive, but they do offer some awesome real racing seat mounts like this Playseat Evolution-M Alcantara Gaming Seat which works with any wheel or system. Of course, once you get your setup ready, the first thing you'll want to do is drive! Eventually, once you get even better you'll need a way to show off your skills by using a video game recorder and uploading to YouTube or Twitch.
LOGITECH G27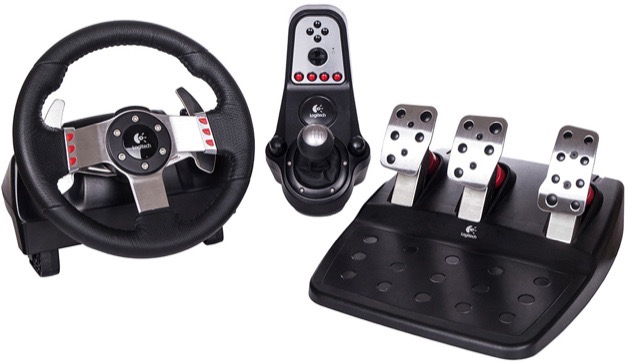 I decided to start off the list with one of the most popular wheels of them all, the Logitech G27. The G27, unlike many other wheels, is finished in leather which makes it more comfortable for serious gaming sessions. The force feedback is smoother, the shifting inputs are great, and it has metal paddle shifter.
The best part about it is the 6-speed H-pattern stick shift (with reverse) that also has a few buttons on the base that can control menu navigation and/or other options of your choosing. The top of the wheel even has rev lights on the top which tell you the best time to shift. As far as I know, it is the only wheel to feature this. The pedals feel nice to press which is not something you get with cheaper wheels, but aren't as good as some more expensive wheels. The Logitech G27 even comes with a clutch and 900 degree steering which makes it a win all around. It is a huge disappointment that the PS4 no longer supports it.
Works for PS2, PS3, and PC
You can buy the Logitech G27 Racing Wheel
on Amazon
LOGITECH DRIVING FORCE GT (DFGT)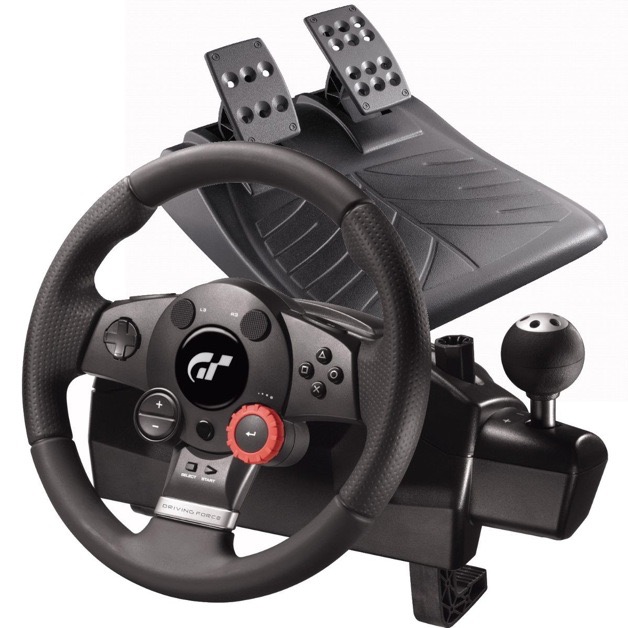 This wheel is the official Gran Turismo wheel. It even has the GT logo right in the middle. It's not very expensive for what you get, and is probably the most sold wheel. Its competitive price and Gran Turismo backing make it very alluring. The wheel in general is basically a toned down G27. There is no clutch or fancy shifting lights, but it still does all the basic functions like have pedals, shifter, and some buttons. It still maintains the full 900 degree steering radius, but lacks the same quality in other areas. The wheel is rubber, which doesn't feel as nice as the leather, and the pedal feel isn't as smooth.
One big pro is it works right out of the box with virtually every PS3 racing game. Literally plug it in and it's all setup. The few differences between the DFGT and G27 are not as big as they seem and the price difference makes up for it. One really cool thing about this wheel is an adjustable dial with 24 positions that allows you to fine tune different aspects of the car with a simple turn. Much faster than having to go into menus to make small changes. If you aren't that into racing, or are new to gaming wheels, this is an excellent choice. By far the best value for money, but more skilled players will find it a bit weak.
Works for PS2, PS3, and PC
You can buy the Logitech PlayStation 3 Driving Force GT Racing Wheel
on Amazon
THRUSTMASTER T500RS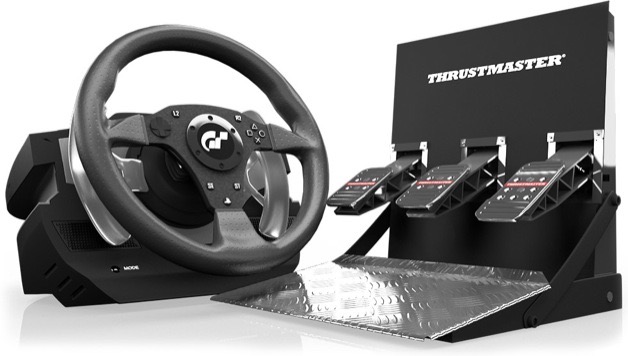 This wheel is one of the more expensive wheels and features much more realistic feeling than some of the others. It has a clutch like the G27, but no shifter and only paddle shifters. The wheel is also a bit larger to make it feel closer to a real car as well.
Like the Logitech DFGT, it also has the GT logo in the middle and features the same easy plug and play setup. Unlike many other wheels, it features 1080 degree steering to allow even more control. Personally, I think that is just to show off to say they have more than the 900 degree wheels, you won't be using the full turning radius, but it is nice to have, I guess. You can also change how far the max turning radius is also. So if 1080 is too much, you can lower it to 900 for example. Another cool thing is it has a detachable wheel, meaning you can actually take off the wheel from the base and replace it with other different types. For example, you could get the Thrustmaster Ferrari F1 Wheel
and just pop it onto this instead of buying a whole new wheel.
Although, it doesn't matter too much, I like the red line in the center (for some reason the red line isn't in this picture, but on the real wheel it is). It just adds that extra touch to give you a more realistic racing experience.
Also, the paddle shifters on this wheel are attached to the base rather than the actual wheel itself. This means if you turn and need to shift gears you have to take your hand off the wheel to hit the shifter. I remember Jeremy Clarkson talking about, I think, the Lamborghini Gallardo years ago, and how stupid it was that the paddles were attached to the wheel instead of the base. When you turn the wheel you don't know which is shift up or down since the wheel is turned. Years later, however, it makes much more sense to put the paddles on the wheel since most of the time you aren't turning the wheel enough to cause any confusion. Many real cars still have the paddle shifters on the wheel and many others have it on the base.
It isn't too much of a problem either way, but an interesting note to point out as it does NOT include a normal shifter. You can buy the Thrustmaster VG TH8A Add-On Gearbox Shifter
separately, and other add-ons, which is pretty cool. Obviously, buying the wheel and all the add-ons will be awesome, but cost a lot. Really nice to have this option for the future as the cost will be spread out over time and the price of accessories will go down as time goes on.
Works for PS3, PC, PS4 confirmed
You can buy the Thrustmaster T500RS Racing Wheel – Playstation 3
on Amazon
THRUSTMASTER T300RS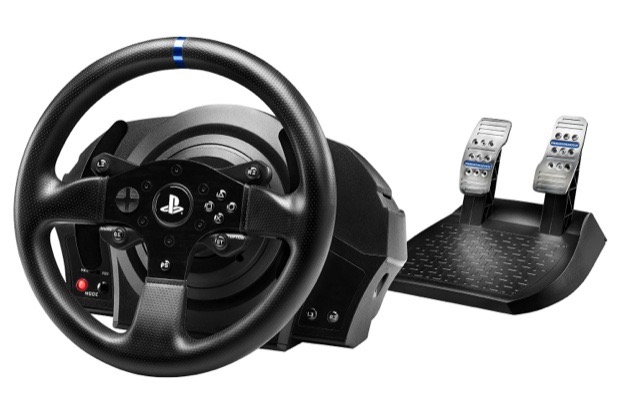 Very similar to the T500, but toned down. More of a part two of what it can do from the T500 listed above. I don't see that much difference between both of these wheels actually. The T500 just does everything a bit better and has a clutch, but if you are new to racing wheels or just want a first time wheel for pure fun, the T500 is probably a bit overkill for you. They both feature 1080 degree turning, detachable wheels, and can use basically all the same after market accessories.
The accessories are actually pretty amazing. You could buy the T300 instead of the T500 and then buy aftermarket better peddles, shifter, and wheel face to have a much nicer driving experience. Great for future proofing and progressive skill increasing. You can save money with the T300 to get use to a wheel, and when you get better and more into hard core racing, you buy the higher end accessories. Not something you can easily do with most other wheels. The peddles are also adjustable to pretty much anyway you want. If you look at the holes on the pedals in the picture, the center hole is where the screw is. If you unscrew it, you can change it to go into any of the other holes. Move it up, to the left, where ever you want the peddle to be to fit you.
Works for PS3, PC, PS4 confirmed
You can buy the Thrustmaster T300RS PS3/PS4
on Amazon
THRUSTMASTER T-GT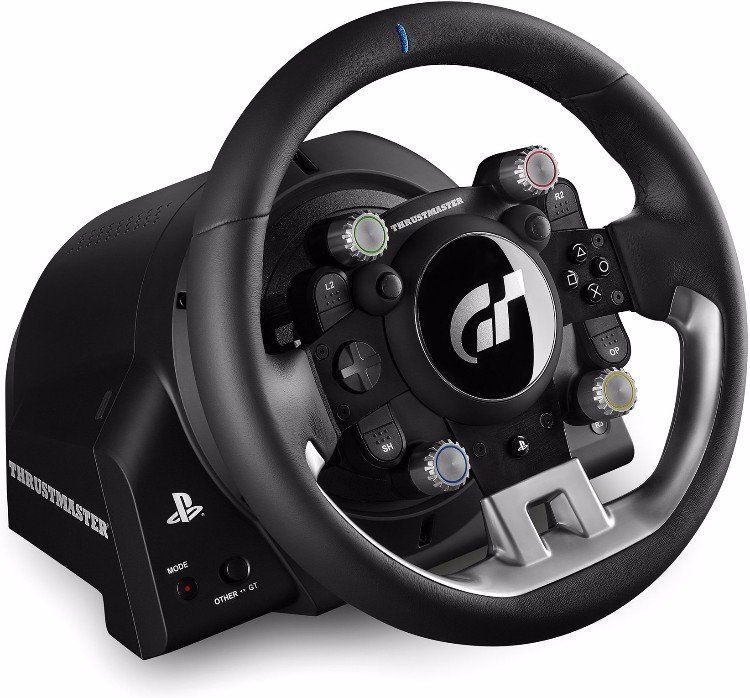 Thrustmaster has introduced the T-GT racing wheel, which is a serious racing wheel for Gran Turismo Sport as well as other PS4 games. The exciting part about T-GT is the new features which have been added to the racing wheel including buttons or switches for just about anything.
T-GT racing wheel makes it possible for the pro-drivers to experience all kinds of different car behaviors and track conditions in their favorite racing game. The racing wheel is designed specifically for PS4, but can also be used for PC.
If you are a big fan of GT Sport, then T-GT can be a good option for you. Also, gaming enthusiasts are in for a nice surprise as Thrustmaster T-GT possesses some amazing racing wheel features. These include 40-watt brushless force feedback for the torque, motor cooling implanted system possessing 50% more dynamics, vibration effects which can enhance the depth feedback, and greater range of stall force. It is also compatible with virtually all the Thurstmaster peripherals. This gives it a lot of future proofing and the ability to really customize it how you want.
Moreover, the transducer makes it possible for you to feel the road surface as well as the grip of the car tires. In addition, the pedals are of really good quality, are made of metal, and are adjustable.
However, there are very few issues when considering the Thrustmaster T-GT racing wheel. Mainly, its large price tag ($800), the racing wheel is really expensive and is thus out of reach for many racing gaming lovers. However, many people tend to ignore this high price when they enjoy the premium quality technology received while using the T-GT racing wheel. 
In all, Thrustmaster T-GT racing wheel is a great gaming peripheral which stands unmatched when compared with other racing wheels. It can really do everything you want, but is definitely aimed at a more advanced driver who isn't afraid to spend a little extra.
Works for PC, PS4 confirmed
You can buy the Thrustmaster T-GT
on Amazon
THRUSTMASTER T80 RS
This is a very cheap budget friendly wheel. It's only $100, which is a great price for first time people who want to get into wheel racing. Another great thing about this is it works for the PS4. Obviously, at this price you are going to miss out on a lot of features. No clutch, no shifter, no force feedback, only 240 degree turning, etc.
The cons to this wheel do not mean you should instantly pass, however. The rubber grip is nice to hold, no real setup required, can slightly adjust the peddles, and it's cheap! The price is the real win here. You can get this wheel to use right now for your PS3 and PS4, then once you get really good and want to step up to something like the Thrustmaster T500RS Racing Wheel – Playstation 3
, give this one to your kids or something to have fun with. The best part about cheaper wheels is they are fun for everyone.
Works for PS3, PC, PS4 confirmed
You can buy the Thrustmaster T80 RS PS4/PS3
on Amazon
FANATEC CSR WHEEL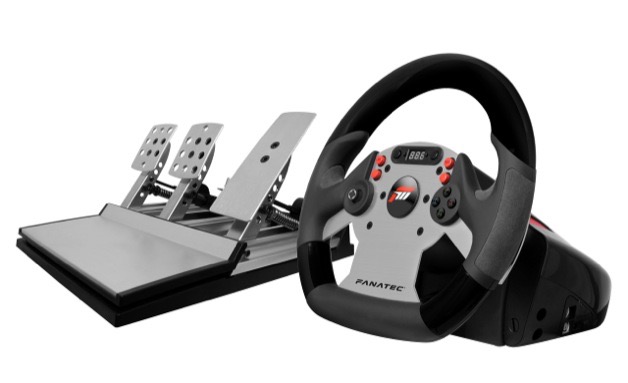 Similar, but opposite of the DFGT as this wheel features Forza Motorsport in the middle. Made for Forza Motorsport racing, this wheel features great force feedback, alcantara grips, and LCD screen. Alcantara, for those who don't know, is used on many super car interiors and is basically a faux suede. Feels great, like real suede, but more durable. Some people, however, have said the alcantara can wear a lot easier than leather or a rubber wheel. Even though it has a Forza badge, it does work for PS3 and PC which is a plus. Many of the other wheels don't work, or take a bit of effort to get them to work with everything. You do have to do more setup when plugging this in, like setup the LCD. compared to some of the others, but it's not that hard and doesn't have to be done all the time.
Works for PS3, XBOX 360, PC, and PS4 confirmed
You can buy the Fanatec CSR Wheel
Thrustmaster VG TX Racing Wheel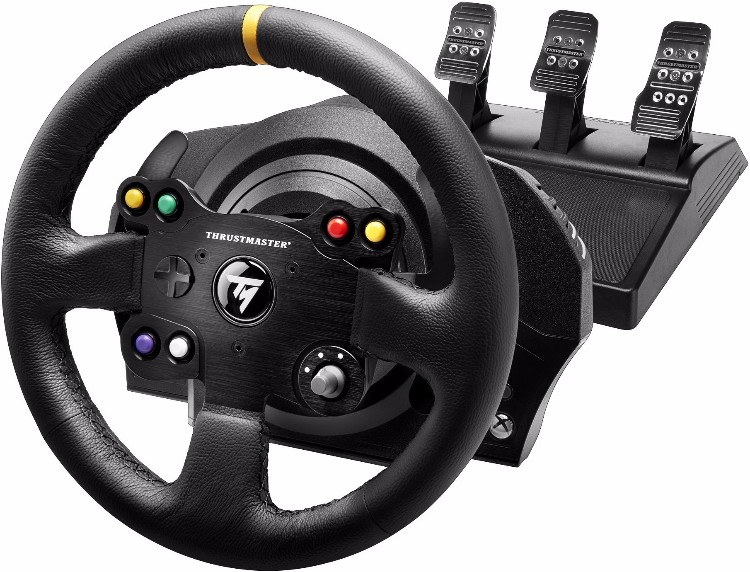 Thrustmaster VG TX Racing Wheel is not only a new product launched by Thrustmaster, but a set of some of the best features bundled into one wheel. It is a fancy high end racing wheel, which has made a mark for itself in the gaming world. Thus, get ready to experience a real time racing game full of excitement and thrill with the help of this racing wheel.
The Thrustmaster VG TX racing wheel offers racing simulator for both Xbox One and PC. Moreover, the package includes TX Servo Base, TM Leather 28 GT 11" leather wheel which is detachable, and T3PA 3-pedal set. The racing wheel comes with hand-stitched leather covering which adds to its comfort and quality.
Thrustmaster VG TX Racing Wheel has a long list of positive aspects. Foremost is that it provides a really strong force feedback racing simulator. In fact, it has the most realistic force feedback system available in the market. This feedback system features about 270 to 900 degrees of rotation along with a HallEffect Accurate Technology offering a perfect frictionless experience for the users. The belt system of the racing wheel is quieter as compared to its counterparts. Also, Thrustmaster offers the best wheel bases in the market which are of high quality. The pedals included with this racing wheel are extremely responsive and gamers can actually feel them pushing against their feet. Much better some some cheaper plastic pedals that do not offer much feedback.
However, there are some negatives, the pedals of the racing wheel are good, but some users replace them with even better ones. They say the pedals are not on the same level as the actual wheel quality. Other reports of the wheel not working after a short amount of time, however, this is rare. It does come with a year or more warranty if you run into any issues.
However, even with a few negative aspects, this racing wheel is a great buy if you own a XBOX One. It offers great quality, performance, and upgradeability. It is one of the few XBOX ONE racing wheels with clutch and shifter compatibility, for example.
Works for XBOX One and PC
You can buy the Thrustmaster VG TX Racing Wheel on Amazon
FANATEC PORSCHE 911 GT3 RS V2 WHEEL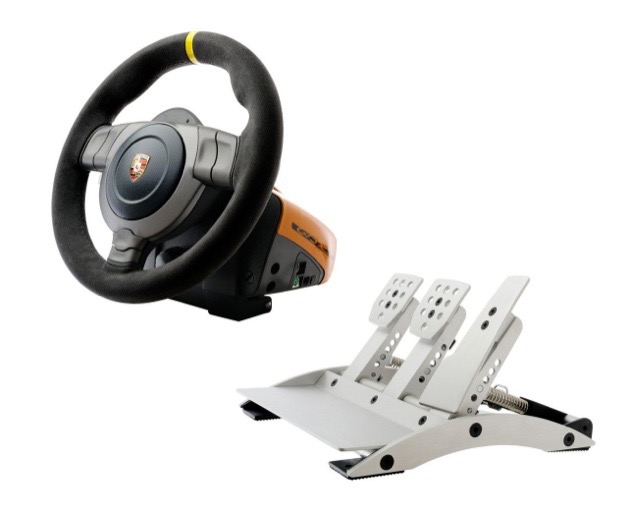 Yes, you read the title right. This is a Porsche wheel which looks basically like a real Porsche wheel. Hard to get much more real than having an actual Porsche wheel in front of you. The wheel is pretty nice too, with hand stitched leather made in Italy, alcantara, and a real metal Porsche logo. Not to mention is says "GT3 RS" in the same style the real cars do. It's pretty awesome having this in your house just to be able to tell people what it is. For sure they will want to drive with it. Somewhat similar LED display as the Fanatec CSR only this can be used for tuning functions. It has 900 degree steering as well. The most realistic wheel of the bunch. The biggest problem is it's hard to buy in North America.
Works for PS3, PC, and PS4 confirmed
You can buy the Fanatec Porsche 911 GT3 RS V2 Wheel
THRUSTMASTER FERRARI GT EXPERIENCE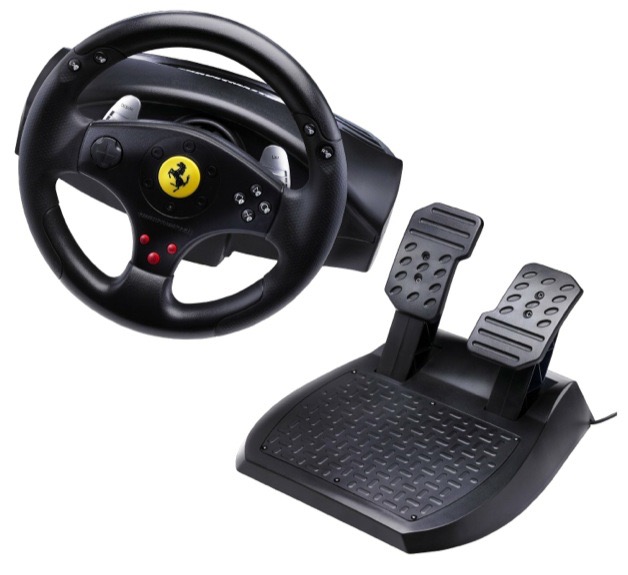 Similar to the Porsche wheel only by Ferrari. There are a few Ferrari wheels out there, but I decided to pick this one because the price isn't too bad. Even the more expensive Ferrari wheels have a few problems which this one doesn't have.
A really cool thing about this wheel is the pedals can be adjusted to narrow or wide. This is perfect for heel and toe racing. The problems with this wheel is it has only a 90 degree turning radius. This means you turn it half a turn and it's maxed out, you can't turn any more than that. No clutch or shifter either. The wheel and pedals are plastic, but it's not cheap like some other plastic wheels. It has force feedback, but only works with PC and I heard PS2.
This wheel, in general, is meant more for Need for Speed, Burnout, and other lower end racing games. Makes things a lot more fun, but lacks many high end features. Great for casual driving video games and more geared towards the PC due to the force feedback there only. However, looking at that yellow Ferrari badge in the middle would definitely be my favorite part.
Works for PS2, PS3 and PC
You can buy the Thrustmaster Ferrari GT Experience Racing Wheel for PS3 and PC
on Amazon
THRUSTMASTER TX RACING WHEEL FERRARI 458 ITALIA EDITION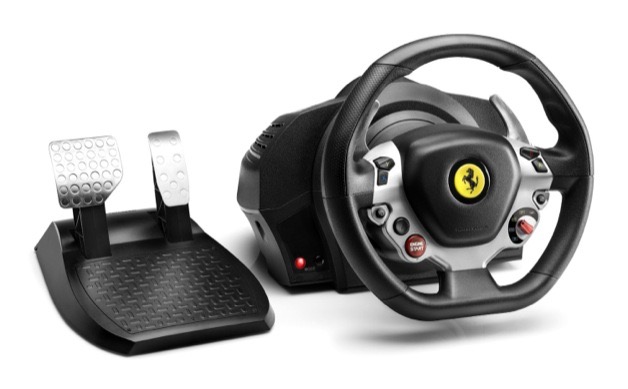 Basically, the high end version of the last wheel. This wheel looks a lot like a modern real Ferrari wheel and features many similar buttons. It even has the push to start button right on the wheel. I have no idea what it would do for most games since the car is usually already started, but it's still pretty sick none the less. The main reason I included this wheel is for the XBOX One fans. There are so few wheels that will work with the XBOX One right now it's almost shameful. It also works for the PC with games like Formula 1 2013 and Assetto Corsa.
The force feedback on Forza 5 is amazing and it has a 900 degree turning radius. Some cons are: no clutch or shifter, and it has a flat bottom. If you see in the picture, it's not really a perfect circle, which is great for day to day driving and some racing. However, may not be ideal on extreme high speed races where you need to turn the wheel more than usual. One hand will be on the curve part and the other might be on the flat part, or even worse, the corner. Not a huge deal most of the time, but it could cause you to crash at the most important times. Force feedback is great, and it looks great, but very pricey for what you get.
This XBOX One racing wheel is one of the few available right now. Unfortunately, if you really want to race it's one of the only options. Too bad there isn't a XBOX One steering wheel with clutch.
Works for XBOX One and PC
You can buy the Thrustmaster TX Racing Wheel Ferrari 458 Italia Edition
on Amazon
LOGITECH DRIVING FORCE PRO (WHAT I OWN)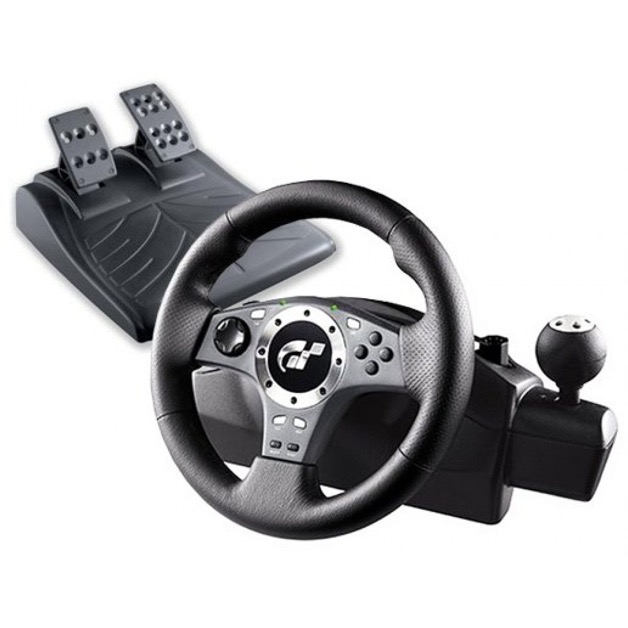 This one is more of a bonus. The original racing wheel to start off the wheel craze. This wheel came out in 2005 making it the oldest wheel here. Just because it's old doesn't mean it won't work for modern racing. It was the wheel before the DFGT that Logitech made and features a GT (gran turismo) badge in the middle.
The wheel has rubber grips and plastic everywhere else. Some pros is 900 degree turning and pretty good force feedback. It has a basic shifter attached to the side, but I don't recommend using it as it literally moves about a 1 inch in either direction. Also, it feels really cheap. The paddles are plastic, but feel much better and are much better for shifts while racing anyways. The gas and brake don't have the best feel to them when pressed. Although, this can also be a pro since it takes no effort to press them down. The price is much lower now which makes it a great choice, but lacks many features something like a G27 would have and a few the newer DFGT has.
I personally bought this wheel years ago in 2005 and used it maybe 3 or 4 times max. I couldn't get use to the steering. This is going to happen with any wheel you buy if you are coming from a controller. I was too young to understand how to actually drive/race back then which made me frustrated, but have recently hooked it up to my PS3 and love it!
Remember, never slam on the gas when coming out of corners and don't make large dramatic turns with any wheel. It's all about small subtle changes for the quickest laps. If you drive a car already, you will know what I am talking about. The control over the car is so much more precise compared to a controller. With a controller, you pretty much have full left or right on the thumb stick and that's it. With a wheel, you can control exactly how much you want it to turn which gives you much cleaner driving lines. Wheels with 900 degree turning are much better, in my opinion, because they offer even more precision. It is true, you will barely ever turn the wheel 900 degrees when racing (maybe only when reversing after a crash), but that extra control makes all the difference.
Works for PS2, PS3, and PC
You can buy the Driving Force Wheel for PlayStation 2 and PlayStation 3
on Amazon
BEST GAMING RACING WHEEL TO BUY?
We have come to the end of this article and now you are probably wondering which one is the best to buy? I can't just pick a best one as "best" is a relative term to you personally. For example, if you have an XBOX One, saying the DFGT is best wouldn't make sense. You wouldn't be able to use it since it is not compatible with that system. To pick the perfect wheel for you, look at these three factors.
What system do you have?
How serious at racing are you?
How much does it cost?
After looking into these three factors, making a choice becomes much easier. My choices would be the Logitech PlayStation 3 Driving Force GT Racing Wheel
for first time wheel owners, or the Logitech G27 Racing Wheel
. If you have a PS4, or plan on using the wheel for PS4 in the future, a Thrustmaster T300RS PS3/PS4
wheel is a better choice. The G27 is a bit more advanced for people who have never owned a wheel before, but will save you money in the long run since you won't have to purchase another advanced wheel later. Again, this all depends on which racing games you personally are playing or plan on playing. There are also hundreds of other racing wheels from Logitech, Thrustmaster, Ferrari, Porsche, Momo, Datel, Mad Catz, and many more.
Also, just a final reminder, you do need a wheel stand for best results.
If this article has helped you, I would love to know which wheel you have or bought in the comments. Of course, don't forget to share it with others looking for racing wheel help!