The Vision Gran Turismo program gets a new exclusive car today, but this time things are a little different. Not only will players of PS4 game, Gran Turismo Sport, get to drive it, but they will also be able to watch it go around real life tracks too. Audi's new "Audi e-tron Vision Gran Turismo" will not only be a video game car, but they are actually making it their race taxi at Formula E races.
Also, you can catch a ride in it at various events. The first one is on April 14 at Rome ePrix. You will be driven by DTM driver Rahel Frey or Dindo Capello (Le Mans winner) at high speeds around the track.

Audi has been working on this new VGT car since 2013. Its looks are based on the Audi 90 IMSA GTO that raced in the 1989 IMSA series. However, although the looks are based on it, everything else is very different. The Audi 90 used a five-cylinder turbocharged engine, which ran on gas, while the new Audi e-tron Vision Gran Turismo uses an all electric system.
Peter Mertens, head of Audi R&D:
With the Audi e-tron Vision Gran Turismo race taxi we are turning electric mobility into a tangible experience for our customers and guests as part of the Formula E races – in the middle of the world's metropolises, we are also expanding our gathering of valuable experience in extremely demanding conditions.
Audi says the e-tron Vision Gran Turismo uses three electric motors to produce 815hp. It sticks to Audi's 4WD quarto history by having two motors in the back powering the rear wheels, and one motor to power the front wheels. Also, like all electric cars, it is pretty heavy and weighs in at 3200lbs. However, its high weight does not slow it down. Audi says its 0-60mph time is only 2.5 seconds.
Furthermore, Audi has actually made a second car just for Gran Turismo Sport. It is called the Audi Vision Gran Turismo, and will have a hybrid system. That means it will keep the front battery, but replaces the rear batteries with a 3.4L turbocharged V6. This version is more powerful as it has 1274hp.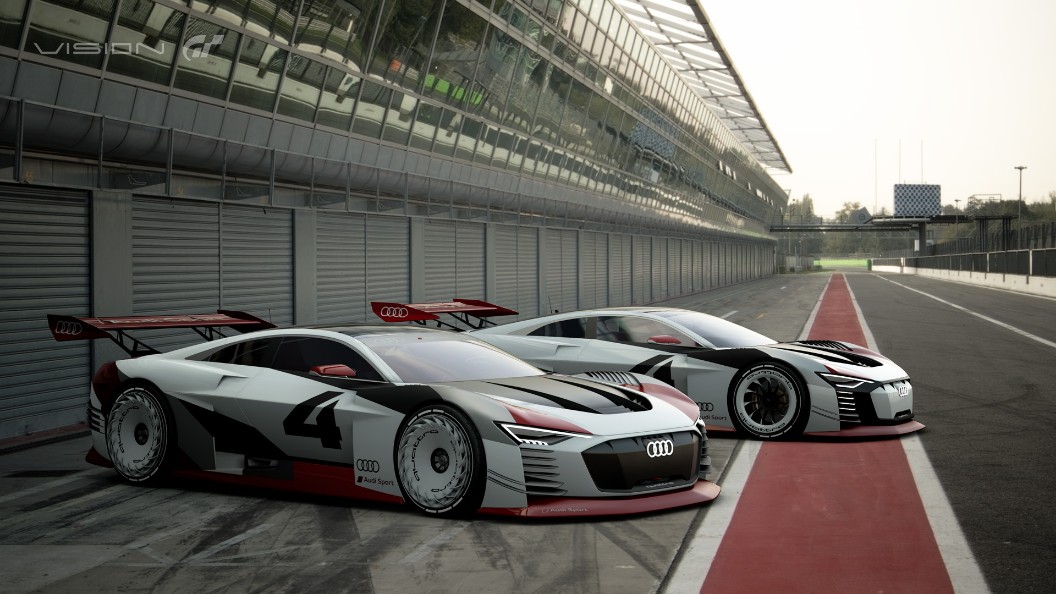 The best part about the Audi VGTs is you can drive them in GT Sport right now! Just download the latest 1.17 patch and you'll get access to this hybrid car, and the full electric version. You can tell the difference between them by the front grill (all white on e-tron) and the wheel colour.
First Ever Drive
If you are wondering how it actually performs on track, check out YouTuber, Shmee150, as he was lucky enough to be the first person in the world (outside of Audi) to drive it. The video also shows the interior, exterior details, and of course, an awesome drive.
Due to its all electric engines, it is silent. You can hear the electric engines giving off a slight whine, but that is it. It must be very strange to drive as you can see Shmee hammer "the gas", and the car takes off, but it doesn't let off a huge engine roar like a traditional car would.