The paragraph below talks about just how amazing the Aston Martin One-77 is and how awesome this new site is. However the day I wrote that everything changed. I bought this car months and months ago and have been slowly working on a great tune for it. I took the pictures for it a long time ago as well and won the Reddit Gran Turismo banner and side bar contest with them (at the time). I planned on releasing this new site design to everyone with this awesome car as the first new tune added as a bit of a celebration. I had the tune all ready when I decided to try it just one last time and figured I could make a couple more tiny edits to make it even better. I walk away from my PS3 for about 10min with GT6 on pause to come back to see my PS3 totally dead. After looking into it, it quickly became apparent my PS3 has finally YLOD never to work again. We are talking about literally 1hr away from showing all of you the new site and putting this tune up and this happens. It was the most disappointing day ever. I couldn't just release a tune I knew I could make better to celebrate the new site and was forced to set it aside as I dealt with fixing my PS3. I have tried everything to get it to work again, but literally nothing has worked. Worst part is the GT6 game was stuck inside the dead system and would not eject no matter what I did. As you will see from the picture below I had to make the hard choice of opening it up to get it out. It was a very long and difficult journey, but I learned a lot and eventually fixed my PS3, got my game out, got all my saves etc off, and moved to a brand new PS3 without losing anything! I had every single problem you could have in this process and will be writing a guide soon so show exactly what I did and so other do not make the same mistakes I did. However all the problems are gone now (hopefully) and things should be back to normal. Once I got everything running again I made the few changes to this tune that I had planned long ago and it now is worthy of this site.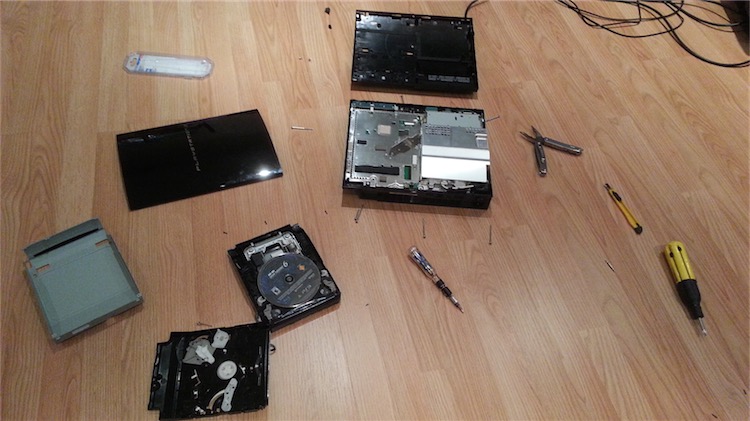 If you have been using Team Shmo for the last few years you will clearly notice our brand new site! The only car I can think of to introduce the new site is the Aston Martin one-77. It is crazy rare with only 77 made, hence the name and it looks gorgeous. I personally have never seen one in real life, auto shows, even videos of it on the streets are hard to come by. With a car this nice I couldn't just put any regular paint on it either. I had to go with the rose gold. It's one of the most expensive paint options in GT6 and even more in real life. I only know of 3-5 cars in the entire world with it (in real life it's a rose gold wrap). Aston Martin always makes beautiful cars, but this one is truly special and now has a tune to back it up. Very fast car that handles great. It's pretty surprising to drive as you expect all the power to really shock you but it's rather gentle the way the power hits the wheels. Don't let it fool you tho it still has over 1200hp making it one of the highest hp cars in the entire game.
I have included a video of a review on a real one that really must be watched to get the true feel for the car and how special it is.
| | |
| --- | --- |
| Car | Aston Martin One-77 |
| Drivetrain | FR |
| Horsepower | 1221HP/8400rpm |
| Torque | 873.9 ft-lb/8400rpm |
| Weight | 1305 kg |
| Miles | 22.2 |
| Performance Points | 652 |
PARTS
Best of all parts with spoiler, racing breaks and optional nos. Racing soft tires.
BODY/CHASSIS
| | |
| --- | --- |
| NOS | 50% |
| Downforce | xx/20 |
| Weight Balance | 0/0 |
| Power Limiter | 100% |
TRANSMISSION
Set top speed, gears, final
| | |
| --- | --- |
| 1st | 4.127 |
| 2nd | 2.447 |
| 3rd | 1.687 |
| 4th | 1.257 |
| 5th | 0.977 |
| 6th | 0.767 |
| Final | 3.907 |
| Top Speed | 311mph (500kmph) |
LIMITED SLIP DIFFERENTIAL
| | | |
| --- | --- | --- |
| | FRONT | REAR |
| Initial | xx | 7 |
| Accel | xx | 7 |
| Braking | xx | 37 |
SUSPENSION
| | | |
| --- | --- | --- |
| | FRONT | REAR |
| Ride Height | 85 | 87 |
| Spring Rate | 9.67 | 9.97 |
| Compression | 7 | 7 |
| Extension | 5 | 5 |
| Anti-Roll | 2 | 2 |
| Camber | 1.2 | 1.0 |
| Toe | -0.27 | 0.37 |
BRAKES
| | | |
| --- | --- | --- |
| | FRONT | REAR |
| Brake Balance | 1 | 1 |