The Lamborghini Gallardo is a classic super car. One of the most popular super cars of all time known for it's looks, sound, and performance. I had to make sure it was all that and more with my tune. I added many aero parts and a spoiler that really takes things to the next level. Mine is all carbon fibre and black. The only thing painted something different are the brakes which are yellow giving it a really aggressive look driving around a track. It handles really well and has a lot of power for something relatively small. The 4WD system helps keep it planted to the road at all times and the transmission tune makes sure you never spin up the tires. The power is delivered evenly and smoothly. I love driving this car as it works great at any track, but sometimes I get bored by how easy it is to drive. I decided to install Nos on it to make it even more fun. It's capable of speeds well over 220mph, but the Nos is good to get it there even faster. If you limit the power a little you can also fit it in the 600pp range.
Also I love the looks of the Aventador with it's geometric pattern so much I made shirts you can purchase. They come in whatever color you want as well as just the lines version over at the Team Shmo Shop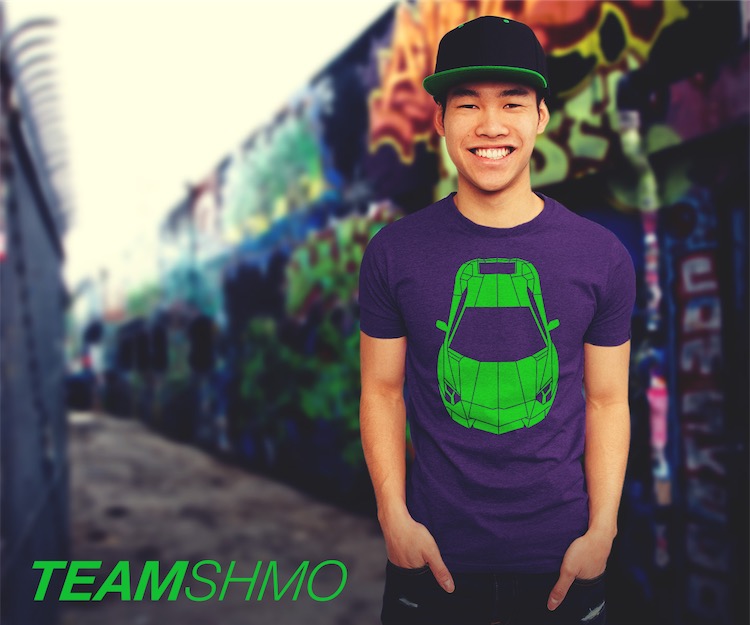 | | |
| --- | --- |
| Car | Lamborghini Gallardo LP 560-4 '08 |
| Drivetrain | 4WD |
| Horsepower | 761 HP/9000 rpm |
| Torque | 488.2ft-lb/7500 rpm |
| Weight | 1155kg |
| Miles |  25 |
| Performance Points | 607 |
PARTS
Best of all parts including racing brakes, spoiler and Nos. I'm using racing soft tires.
BODY/CHASSIS
| | |
| --- | --- |
| NOS | 50% |
| Downforce | 0/20 |
| Weight Balance | 0/0 |
| Power Limiter | 100% |
TRANSMISSION
Set it top speed, gears, final
| | |
| --- | --- |
| 1st |  3.050 |
| 2nd |  2.026 |
| 3rd |  1.504 |
| 4th |  1.157 |
| 5th |  0.924 |
| 6th |  0.746 |
| Final |  4.300 |
| Top Speed | 217 mph (350 kmph) |
LIMITED SLIP DIFFERENTIAL
| | | |
| --- | --- | --- |
| | FRONT | REAR |
| Initial | 12 | 16 |
| Accel | 16 | 20 |
| Braking | 16 | 20 |
TORQUE SPLIT
| | | |
| --- | --- | --- |
| | FRONT | REAR |
| Front Rear | 33 | 67 |
SUSPENSION
| | | |
| --- | --- | --- |
| | FRONT | REAR |
| Ride Height |  76 | 80 |
| Spring Rate |  8.87 | 13.31 |
| Compression |  7 | 6 |
| Extension |  6 | 5 |
| Anti-Roll |  2 | 2 |
| Camber |  2.0 | 1.0 |
| Toe |  -0.25 | 0.40 |
BRAKES
| | | |
| --- | --- | --- |
| | FRONT | REAR |
| Brake Balance | 2 | 2 |