A lot of people have asked me for Evo tunes and I do not have many. I have been working on a few, but they are never the fastest and get beat by other popular cars. This one I decided to give it sports tires and a more aggressive suspension setup to create a bit more fun. It handles well, but sometimes has a little understeer out of the corners due to the 4WD system. I have been driving it a lot recently and have had a lot of fun every time. I personally have always like Subaru's more than Evo's, but I do really like this particular design. It's the right balance of aggression and sharp lines that brings quite a striking car to look at. Only advice on driving it would be let off the gas and coast around the corners most of the time so you don't encounter any understeer.
If you like the Evo (who doesn't?) the Team Shmo Store has a great new design Saying "Evolution" with a fist holding keys in it. This design is a play on the "viva la revolution" where the fist stands for change.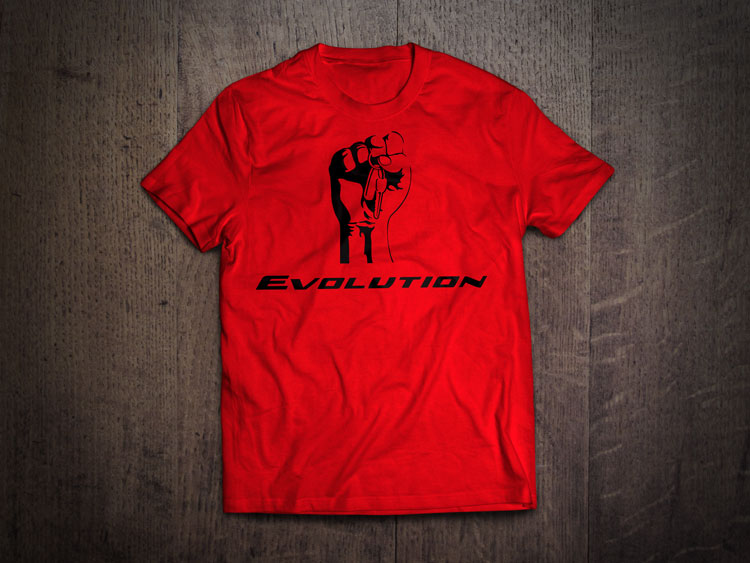 | | |
| --- | --- |
| Car | Mitsubishi Lancer Evolution VIII MR GSR '04 |
| Drivetrain | 4WD |
| Horsepower | 578HP/7500rpm |
| Torque | 472.8 ft-lb/5500rpm |
| Weight | 1147 kg |
| Miles | 12.6 |
| Performance Points | 575 |
PARTS
Best of all parts including racing brakes and optional spoiler for looks set to the lowest. Sports soft tires is what I am using.
BODY/CHASSIS
| | |
| --- | --- |
| Nos |  0 |
| Downforce | 0/0 |
| Weight Balance | 0/0 |
| Power Limiter | 100% |
TRANSMISSION
Set it top speed, gears, final
| | |
| --- | --- |
| 1st | 2.939 |
| 2nd | 2.052 |
| 3rd | 1.520 |
| 4th | 1.193 |
| 5th | 0.971 |
| 6th | 0.822 |
| Final | 3.935 |
| Top Speed | 162mph(260kmph) |
LIMITED SLIP DIFFERENTIAL
| | | |
| --- | --- | --- |
| | FRONT | REAR |
| Initial | 13 | 17 |
| Accel | 18 | 28 |
| Braking | 9 | 11 |
TORQUE SPLIT
| | | |
| --- | --- | --- |
| | FRONT | REAR |
| Front Rear | 30 | 70 |
SUSPENSION
| | | |
| --- | --- | --- |
| | FRONT | REAR |
| Ride Height | 100 | 90 |
| Spring Rate | 7.76 | 8.56 |
| Compression | 3 | 4 |
| Extension | 4 | 6 |
| Anti-Roll | 2 | 3 |
| Camber | 0.5 | 0.7 |
| Toe | 0 | 0.20 |
BRAKES
| | | |
| --- | --- | --- |
| | FRONT | REAR |
| Brake Balance | 2 | 2 |