Jeremy Clarkson has officially been fired from Top Gear. It started on March 10, 2015 when Clarkson was suspended following an incident with with senior Top Gear producer Oisin Tymon. After an investigation it found Clarkson verbally abused and then physically attacked the producer causing him to have non threatening life injuries. It is reported that the physical attack lasted about 30 seconds with verbal abuse lasting much longer. The attack all started over not having Clarkson's meal ready. One of Tymon's jobs is to have meals ready for the Top Gear cast after they finish filming the show. This time Tymon didn't get the steak Clarkson asked for and instead got him cold cuts. According to the reports Clarkson flipped out and struck him. After further review of all the evidence the BBC released a statement on March 25, 2015 that Jeremy Clarkson would no longer be working on Top Gear ever again.
The current season was first canceled following the incident, but the BBC said they do plan on continuing the show next year without Clarkson. No one is sure yet if James May and Richard Hammond will still be continuing the show, but both have made statements that they will not be doing it without Clarkson before he was officially fired. Even if Hammond and May continue with the show it will never be the same. No one will ever be able to replace Clarkson in my opinion.
Richard Hammond's Twitter response to the news.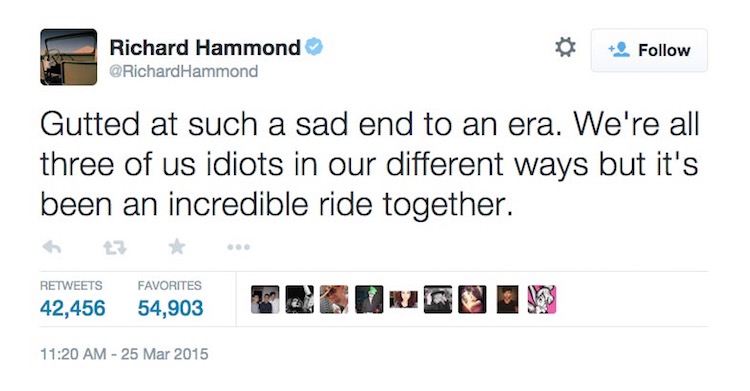 James May's reaction only minutes after.
The BBC said the decision "was not taken lightly," and they definitely weren't joking. Top Gear has been running since October 20, 2002 and brings in about 350 million views per week in 170 different countries. It is the largest TV show in the world, and even has a place in the Guinness Book of World Records as the most-watched "factual" TV program. You can just imagine how much money the show is bringing in for the BBC and Clarkson was a large reason for that.
Here is the full statement:
It is with great regret that I have told Jeremy Clarkson today that the BBC will not be renewing his contract. It is not a decision I have taken lightly. I have done so only after a very careful consideration of the facts and after personally meeting both Jeremy and Oisin Tymon.
I am grateful to Ken MacQuarrie for the thorough way he has conducted an investigation of the incident on 4th March. Given the obvious and very genuine public interest in this I am publishing the findings of his report. I take no pleasure in doing so. I am only making them public so people can better understand the background. I know how popular the programme is and I also know that this decision will divide opinion. The main facts are not disputed by those involved.
I want to make three points.
First – The BBC is a broad church. Our strength in many ways lies in that diversity. We need distinctive and different voices but they cannot come at any price. Common to all at the BBC have to be standards of decency and respect. I cannot condone what has happened on this occasion. A member of staff – who is a completely innocent party – took himself to Accident and Emergency after a physical altercation accompanied by sustained and prolonged verbal abuse of an extreme nature. For me a line has been crossed. There cannot be one rule for one and one rule for another dictated by either rank, or public relations and commercial considerations.
Second – This has obviously been difficult for everyone involved but in particular for Oisin. I want to make clear that no blame attaches to him for this incident. He has behaved with huge integrity throughout. As a senior producer at the BBC he will continue to have an important role within the organisation in the future.
Third – Obviously none of us wanted to find ourselves in this position. This decision should in no way detract from the extraordinary contribution that Jeremy Clarkson has made to the BBC. I have always personally been a great fan of his work and Top Gear. Jeremy is a huge talent. He may be leaving the BBC but I am sure he will continue to entertain, challenge and amuse audiences for many years to come.
The BBC must now look to renew Top Gear for 2016. This will be a big challenge and there is no point in pretending otherwise. I have asked Kim Shillinglaw to look at how best we might take this forward over the coming months. I have also asked her to look at how we put out the last programmes in the current series.
I am deeply saddened by this decision, but not shocked as Clarkson didn't give them much choice. He has constantly been getting in trouble over the past few years and was told many times by the BBC that they have had enough. Verbal abuse to your boss is one thing, but to actually strike them is an entirely new level. That will get you fired from anywhere.
Goodbye Clarkson and Top Gear as we know it, you will be missed.
To commemorate all the great moments Clarkson has provided I have made a design that shows off what he is most remembered by, "Smug Face".