Who doesn't love a Skyline? The classic R33 Skyline is a monster and made into a drift machine makes it even cooler. Since it is 4WD it makes more sense to be a race car, but it is still a pretty good drift car. I actually landed one of the biggest scores out of all my drift cars. It is a little trickier to drift because all the wheels are moving, but it isn't too difficult to get use to. The best part about 4WD, however, is it can be corrected easier. Any mistake you make is a little easier to just let off the gas, or just turn more, etc and be back into a huge drift. Overall, it is a really fun car to drift around a track and a must to add to your garage. Tune was made by Jordan Delany and Shmogt.
If you like the Skyline (who doesn't?) the Team Shmo Store has a great new design Saying "Godzilla" with a R33 coming through.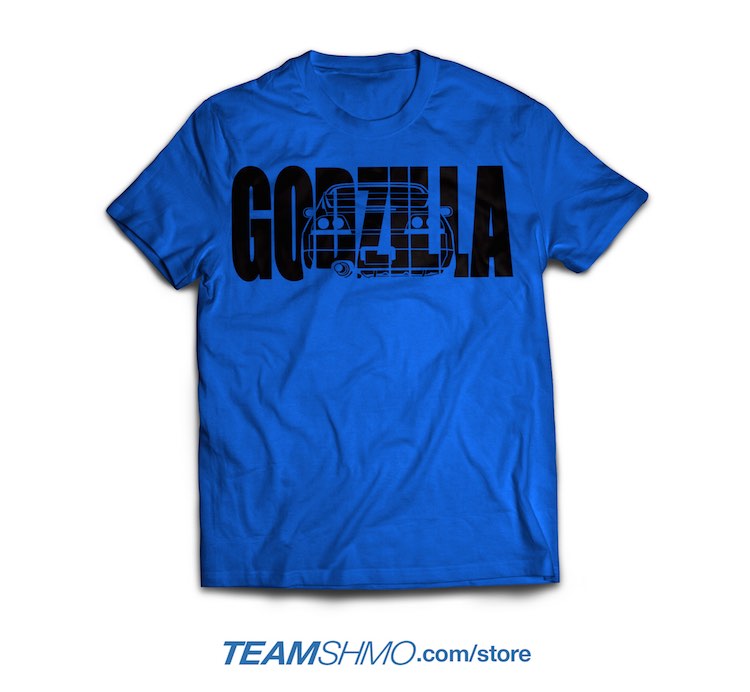 | | |
| --- | --- |
| Car | Nissan SKYLINE GT-R (R33) '97 |
| Drivetrain | 4WD |
| Horsepower | 835HP/8100rpm |
| Torque | 596.4 ft-lb/6200rpm |
| Weight | 1124 kg |
| Miles | 78 |
| Performance Points | 613 |
PARTS
Best of all parts with optional spoiler. Comfort hard tires.
BODY/CHASSIS
| | |
| --- | --- |
| Aerodynamics | |
| Downforce | 0/35 |
| Weight Balance | 0/0 |
| Power Limiter | 100% |
TRANSMISSION
Set it top speed, gears, final
| | |
| --- | --- |
| 1st | 3.439 |
| 2nd | 2.303 |
| 3rd | 1.688 |
| 4th | 1.284 |
| 5th | 1.000 |
| 6th | 0.795 |
| Final | 4.340 |
| Top Speed | 205mph(330kmph) |
LIMITED SLIP DIFFERENTIAL
| | | |
| --- | --- | --- |
| | FRONT | REAR |
| Initial | 6 | 50 |
| Accel | 18 | 50 |
| Braking | 7 | 50 |
TORQUE SPLIT
| | | |
| --- | --- | --- |
| | FRONT | REAR |
| Front Rear | 10 | 90 |
SUSPENSION
| | | |
| --- | --- | --- |
| | FRONT | REAR |
| Ride Height | 94 | 94 |
| Spring Rate | 8.60 | 6.84 |
| Compression | 6 | 6 |
| Extension | 9 | 7 |
| Anti-Roll | 4 | 6 |
| Camber | 0 | 0 |
| Toe | -0.64 | -0.22 |
BRAKES
| | | |
| --- | --- | --- |
| | FRONT | REAR |
| Brake Balance | 3 | 3 |