The Dodge Ram is one of the biggest and most aggressive looking trucks on the road. It's also 4WD and can go basically anywhere. That is why I picked it as a snow rally car for Santa! Merry Christmas everyone reading this on December 25th. Those reading this later, the tune is still good, don't worry. However, I started off thinking of cars for Santa to drive and the Dodge Ram seems perfect. As I mentioned, it is 4WD, can go anywhere, big and bold, and has a truck bed to carry presents, doesn't get much better. After I picked the car, snow rally was the obvious choice as well, although, it should work in the dirt too. The tune really started off more as a joke for Christmas, but it came out really good, like shockingly good. It doesn't weigh as much as I would of thought and the rear doesn't swing around as much as I thought it would either. Plus, the 4WD really helps keep things stable. I had a lot of fun driving it around all the rally tracks and I hope all of you do too.
Also, I created this funny "Go Truck Yourself" design to go along with it. The Dodge Ram worked perfect for it as well.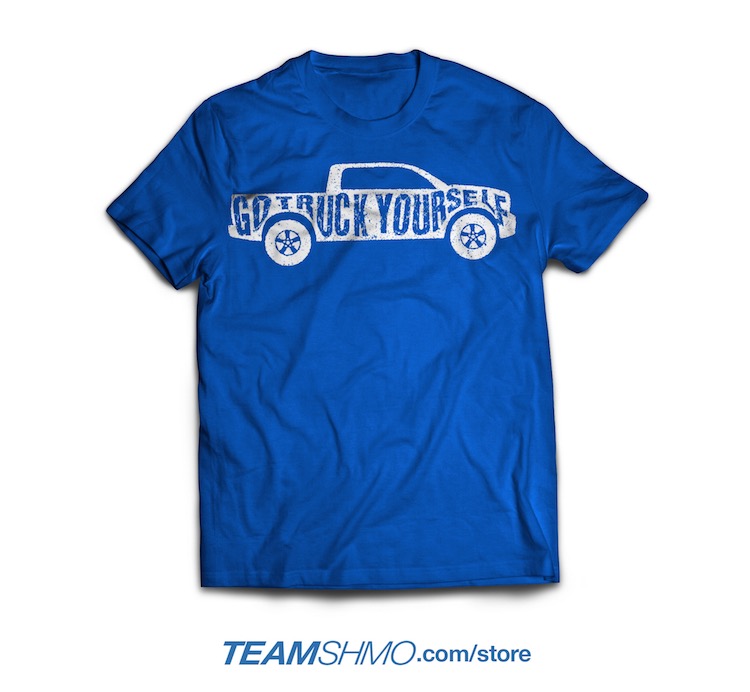 | | |
| --- | --- |
| Car | Ram 1500 LARAMIE Hemi Quad Cab '04 |
| Drivetrain | 4WD |
| Horsepower | 823HP/6200rpm |
| Torque | 806.5 ft-lb/5000rpm |
| Weight | 1777 kg |
| Miles | 10.5 |
| Performance Points | 564 |
PARTS
Best of all parts including racing brakes. Snow or dirt tires. Optional nitrous.
BODY/CHASSIS
| | |
| --- | --- |
| NOS | 0 |
| Downforce | 0/0 |
| Weight Balance | 0/0 |
| Power Limiter | 100% |
TRANSMISSION
Set it top speed, gears, final
| | |
| --- | --- |
| 1st | 3.218 |
| 2nd | 2.184 |
| 3rd | 1.654 |
| 4th | 1.311 |
| 5th | 1.072 |
| 6th | 0.915 |
| Final | 3.235 |
| Top Speed | 168mph(270kmph) |
LIMITED SLIP DIFFERENTIAL
| | | |
| --- | --- | --- |
| | FRONT | REAR |
| Initial | 30 | 48 |
| Accel | 38 | 60 |
| Braking | 14 | 22 |
TORQUE SPLIT
| | | |
| --- | --- | --- |
| | FRONT | REAR |
| Front Rear | 37 | 63 |
SUSPENSION
| | | |
| --- | --- | --- |
| | FRONT | REAR |
| Ride Height | 169 | 169 |
| Spring Rate | 7.40 | 8.55 |
| Compression | 2 | 3 |
| Extension | 3 | 4 |
| Anti-Roll | 2 | 2 |
| Camber | 0.8 | 1.5 |
| Toe | -0.12 | 0.12 |
BRAKES
| | | |
| --- | --- | --- |
| | FRONT | REAR |
| Brake Balance | 5 | 5 |