The R34 Skyline is the last of the official Godzilla monsters. Any future cars are labeled as just GT-R. That makes this car a little more special than most. For something that looks like a square box on wheels you will be super surprised at how fast it is. Shoots down the track like a rocketship and can easily beat cars with more more hp. I got a 6:50 on Nurburgring and that is with at least 4 times off the track and a horrible crash. The suspension is a little stiff for this track, but if you softened everything and are a better driver than me I see no reason why you can't do in the 5 minute zone. Very fast so watch the gas out the turns, but excellent car. If this car is too extreme for you, you can always try the R32 or R33. They all drive very similar, but have different hp.
UPDATE March 11, 2016: Stage 2 turbo adds more HP
This is extremely similar to my RUF CTR2 tune. They are almost the exact same weight, HP, and both 4WD. That is exactly why I decided to have a Top Gear style battle again each other! Who will come out on top?
If you like the Skyline (who doesn't?) the Team Shmo Store has a great new design Saying "Godzilla" with a R34 coming through.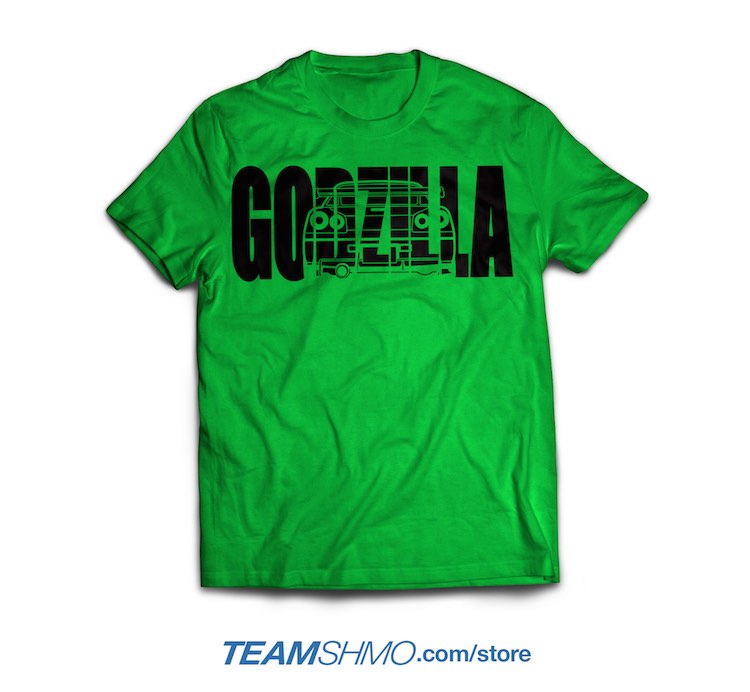 | | |
| --- | --- |
| Car | Nissan SKYLINE GT-R (R34) '99 |
| Drivetrain | 4WD |
| Horsepower | 940HP/xx00rpm |
| Torque | 795.7 ft-lb/xx00rpm |
| Weight | 1232 kg |
| Miles | 31 |
| Performance Points | 631 |
PARTS
Best of all parts including racing brakes and spoiler. Use stage 2 turbo. Racing soft tires. Optional nitrous.
BODY/CHASSIS
| | |
| --- | --- |
| Aerodynamics | |
| Downforce | 0/100 |
| Weight Balance | 0/0 |
| Power Limiter | 100% |
TRANSMISSION
Set it top speed, gears, final
| | |
| --- | --- |
| 1st | 3.670 |
| 2nd | 2.483 |
| 3rd | 1.830 |
| 4th | 1.414 |
| 5th | 1.132 |
| 6th | 0.943 |
| Final | 3.000 |
| Top Speed | 205mph(330kmph) |
LIMITED SLIP DIFFERENTIAL
| | | |
| --- | --- | --- |
| | FRONT | REAR |
| Initial | 6 | 8 |
| Accel | 14 | 19 |
| Braking | 15 | 23 |
TORQUE SPLIT
| | | |
| --- | --- | --- |
| | FRONT | REAR |
| Front Rear | 32 | 68 |
SUSPENSION
| | | |
| --- | --- | --- |
| | FRONT | REAR |
| Ride Height | 97 | 97 |
| Spring Rate | 10.08 | 7.26 |
| Compression | 4 | 6 |
| Extension | 6 | 7 |
| Anti-Roll | 5 | 4 |
| Camber | 0 | 0 |
| Toe | -0.04 | 0.13 |
BRAKES
| | | |
| --- | --- | --- |
| | FRONT | REAR |
| Brake Balance | 3 | 3 |